Friday was the first day that I didn't have to make any decisions about which band I was going to see when: First I went to see Gogol Bordello, then I went to see Sebastien Grainger et les Montagnes, followed by Built to Spill and Metric. The only other possibility on my to-do list was Tokyo Police Club, but their slot overlapped too much with Built To Spill. There was already a healthy collection of people at the Rogers Stage when I arrived for my second Gogol Bordello show. The bass was really thundering, and the band was just as active as it was at Barrymore's. The barrier did prevent the more personal forms of audience interaction (at least while I was there), but a good time was had by all regardless.
I think Eugene Hutz should put out an exercise tape.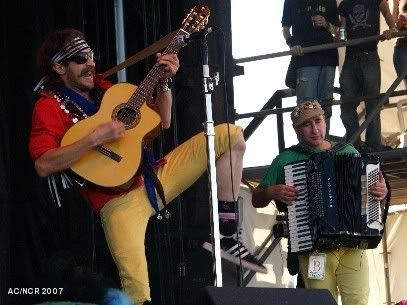 A few minutes before the end I went off to the River Stage to grab a good spot for Sebastien Grainger et les Montagnes. I've seen Sebastien before
as part of DFA 1979
. His Montagnes are a thumping rhythm section, while he's bringing the rock and various grimaces.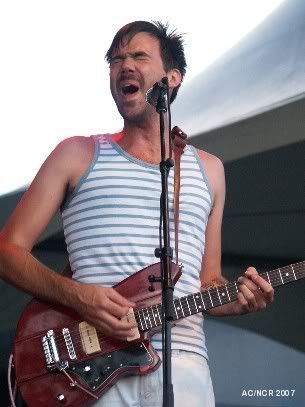 There was a brief wait for Built To Spill, spent
photographing rainbows
and flags, then it was time for Doug Martsch and his merry crew. Well, his not-very-merry crew. as stage performers go they're fairly low-key. I've been enjoying Built To Spill's work since 1993. I was actually trying to find a
Treepeople
album, had to settle for
Ultimate Alternative Wavers
and have been an on-and off admirer since. The three-guitar lineup can really rock out the tunes. I believe that's Jim Roth at right. Netson is much hairier, and has more writing on his guitar.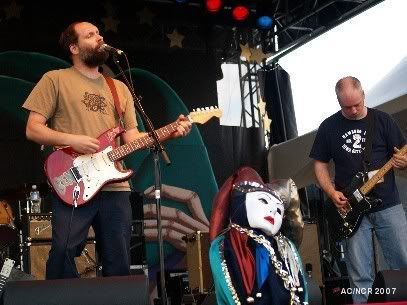 Last time I saw Metric
was at the old Capital Music Hall opening for Broken Social Scene on June 12, 2003 (I'm not counting a previous Bluesfest performance where I only stayed for a couple of songs). I admired that show (though BSS did gull me by saying they were about to break up). The crowd was enthusiastic during Metric's set four years ago; last night they were going bananas. While I was watching Built To Spill several thousand teenagers and 20somethings sneaked up behind me (one industrious young lady actually inveigled herself between me and the barrier). The band test-ran a new song called
Up In Flames
on the audience and played a bunch of favourites like
Dead Disco
that had the fans sloshing back and forth.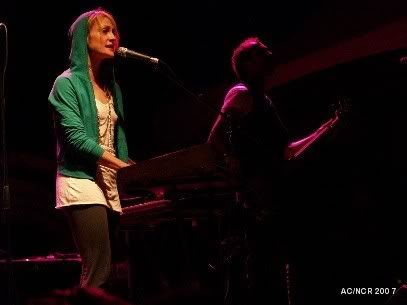 The crowd up front was an incredible crush and by the end I was feeling a bit compressed.