I've learned my lesson; I skipped out on the MBNA Stage entirely on Day 3 of Bluesfest (okay, so I stopped by to snap a few pictures of Gary U.S. Bonds, but I didn't linger).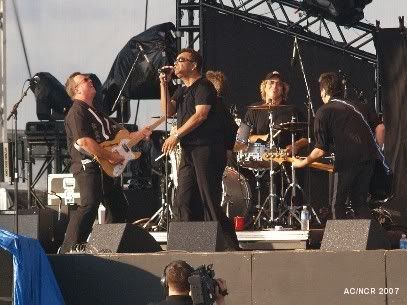 Actually, Gary and co. sounded pretty good working their way through Paul Rice's
You Are My Sunshine
(former Louisiana governor Jimmie Davis usually gets the credit, but it's now widely acknowledged he bought the tune from Rice). Regardless, the main stage has officially exhausted my patience - I'm not even sure I'll turn up for The White Stripes. Once again I went off to the River Stage. It was nice Thursday, but with the later show (and the accompanying insects) and a stiff breeze off the water it wasn't quite so pleasant. At least the threatened thundershowers stayed clear and there was lots of good music to warm up the crowd.
First up was local funk-afrobeat dance band The Souljazz Orchestra. I saw some of them backing Alanna Stuart at the last Bluesfest, but they are a mighty force in their own right.
Marielle Rivard was on hand to sing and shake a calabash; the guitarist I don't know. That's Pierre Chretien on organ and Phil Lafreniere on drums. The horn section will appear at a later date.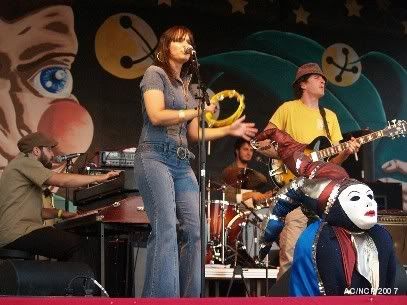 I decided to stick around save my place instead of checking out Bela Fleck. This was a sad mistake on my part, judging from the appreciative roars coming from the Rogers Stage, and the amount of the Souljazz crowd who departed after they left the stage. But half an hour later the place was packed again.
The headliner on stage was Femi Kuti, son of the famous Fela. He had a 10-piece band and a trio of female dancer-backing vocalist-percussionists to help work the crowd into a fit of Afrobeat ecstacy.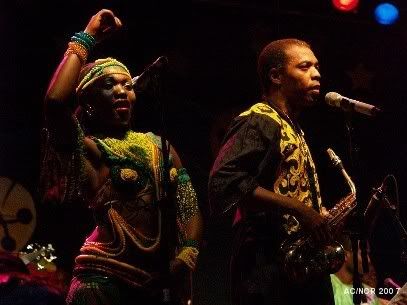 Needless to say, he had the crowd up and moving the whole time.