K Records founder and many of many bands Calvin Johnson put on an interesting show in conjunction with local's Captain Foxy. The Foxy ones are a new-wave influenced quartet (X-Ray Spex are somewhere in their DNA) and Johnson was playing solo acoustic, so it was a bit of an odd match. Then again, both have songs about unrequited love, so perhaps it's not such a bad fit after all.
Captain Foxy.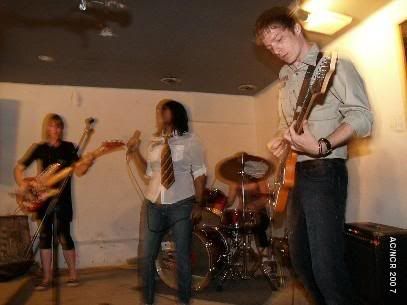 Johnson dispensed with the PA. Unfortunately End Hits' basement doesn't allow for a campfire.
Good turnout too: It was sitting room only.