Menomena had a couple of hard acts to follow, and unfortunately things started going wrong from the start. The band neglected to sound-check prior to the show, there was a good 30 minutes between LOT getting off the stage and Menomena getting underway and by then Zaphod's transformation into a dance venue was only 10 minutes away and Brent Knopf's microphones still weren't working. A debacle was only prevented by the granting of a time extension and a decision to share a microphone with Justin Harris. The band then proceeded to rip into their songs with gusto. The microphone switching didn't seem to pose any particularly hardship for the band. Harris already switches between bass, sax and guitar while playing more bass with a Moog footboard, so multitasking is presumably second nature by now. They definitely seized victory from the jaws of defeat, and played an exhilarating set.
Justin Harris takes his turn at the microphone.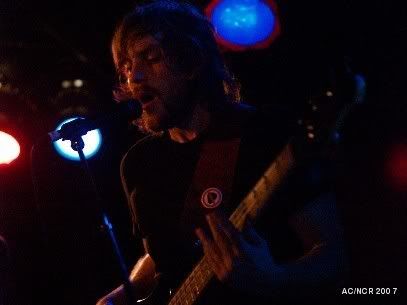 Knopf in a rare moment when his head wasn't blocked by his own (nonfunctioning) microphones.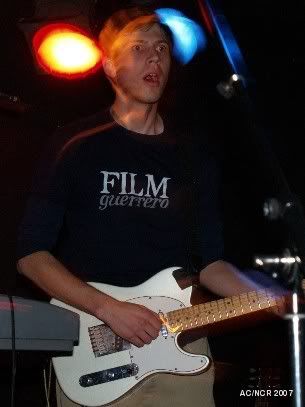 Danny Seim, world's tallest drummer and baby blue xylophonist.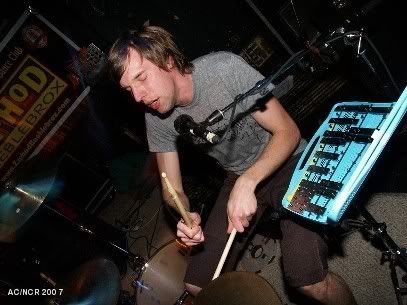 I'd call this singalong action, but once again - mic not working.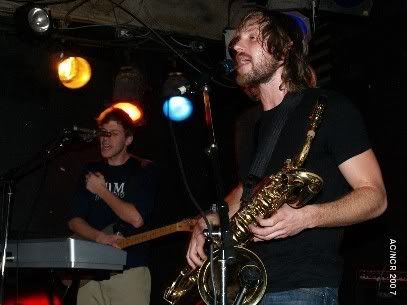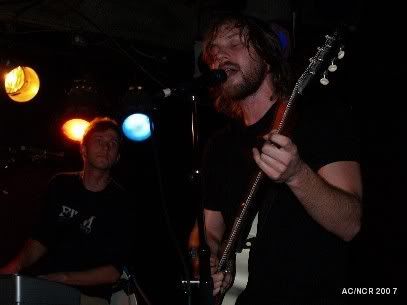 More Danny!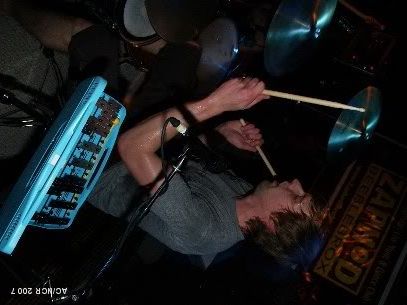 Menomenaic action!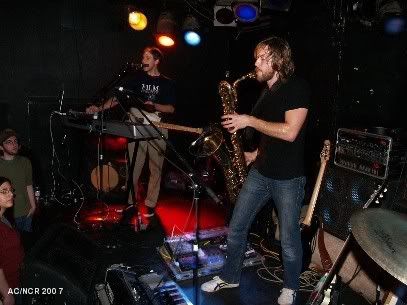 The whole lot, as seen over the xylophonic vista.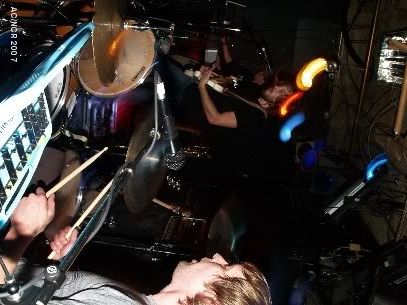 Guitar-and-foot-pedal action!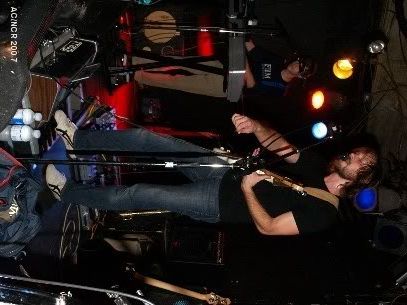 Knopf shakes it a bit. I think by this point one of his microphones had been rendered usable. Huzzay!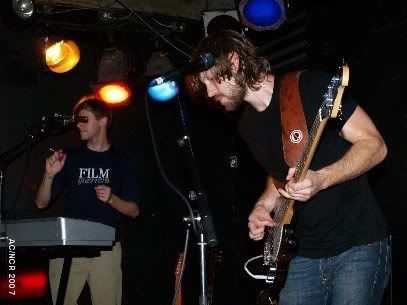 The band's loop-heavy songwriting style (a consequence of using that self-written computer program) gives many of their tunes a danceable edge. Harris announced the last song with "Here's your fucking dance party!" and the crowd went wild. As the well received set came to an end, one drunk guy tried to climb on stage. You know a pop band has broken through when it starts attracting inebriated halfwits.
Show reminder: Muffler Crunch and Good 2 Go rock the Dominion Tavern; The Coggs, Autobahn and The Mighty Eagle Band perform at Zaphod Beeblebrox; Trevor Alguire and The Jason Kent Band play Irene's.