The Ex-Models
are a damn noisy bunch. Two guys and a drum machine (sorry, no sighting of Oneida's Kid Millions, their regular traps-smasher, at this gig) turning out an infernal blend of post-rock and industrial grind. Shahin Motia and Zaxh didn't need a third man to make an infernal racket - but they did get some local assistance ....
"Damn it, we forgot the drummer in New York!"
Shahin prepares to step on it - does every guitarist own a Line 6 Delay nowadays?
Zaxh deploys the masonite.
Singalong action!
It's only natural that X-Ray X should help the Ex-Models, isn't it?
Beat it!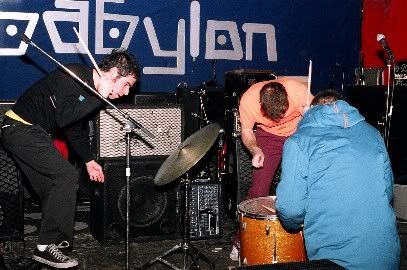 Hooray for earplugs.
Show reminder: The Demolition Doll Rods play the Dominion Tavern. At Babylon there's Halloween Hardcore 2005 with Buried Inside, Million Dollar Marxists, Robot Kill City, The Grey, The Sweet Janes, Outnumbered, Sleeping Pilot. Mavericks' Halloween Horrorshow features The Riptides, The Sewer Rats, The Rookers, Hands Of The Few, Cradle Robbin' Bastards, Germattak, The Manglers and The Intruders.