The Deadly Snakes started off as a bloozin' and boozin' ensemble, sounding a bit like garage rockers on a Bob Dylan trip. They were a bit like Toronto's answer to The Oblivians, blending 50s rock, soul and R&B, an impression that was further cemented when Greg Oblivian briefly recorded with the band. They've supposedly broadened their palette on their new album
Porcella
to add more pop and folk influences (I'm waiting for the double-vinyl version,
A Bird In The Hand Is Worthless
, with extra songs, so I have to take other reviewers' word for it).
They played Zaphod's with Tangiers and sounded like a toned down version of their earlier selves. I think that may be because they don't have the added instrumentation that shows up on their record - they've got to use the old tools to play the new tunes and it doesn't work 100%. Or maybe they just play better when they're stinking drunk, as was the case for the Dominion show when Andre Ethier tried to sing into his maraca for a good 10 seconds before he realized his microphone was actually in his other hand.
Anyway, they were still really good - I've just seen them better and drunker.
Time for some very emphatic singing from Andre.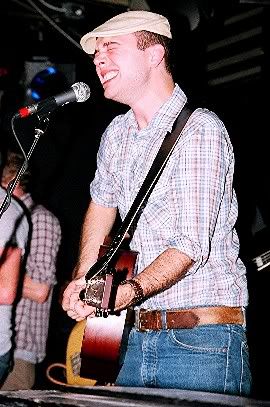 Jeremi Madsen toots his own horn.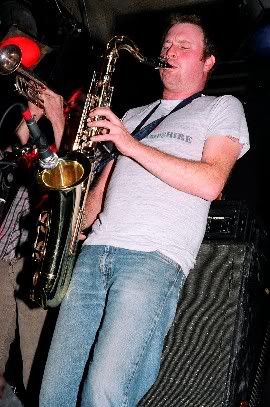 Matthew Carlson shakes one of the many tambourines the band keeps on hand for just such purposes.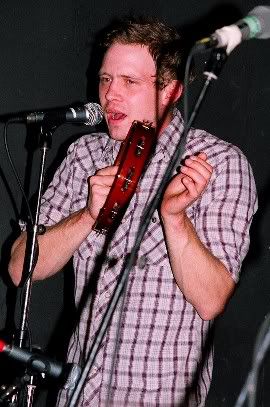 Andrew Gunn was in good form.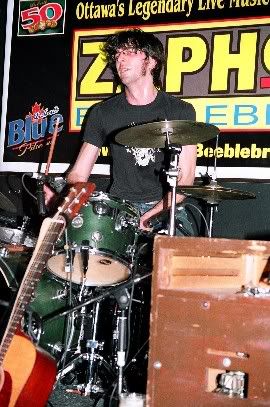 Bassist Chad Ross in the middle.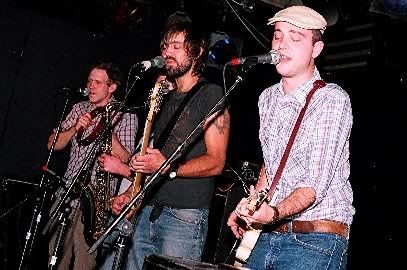 Blood red Andre and Age of Danger!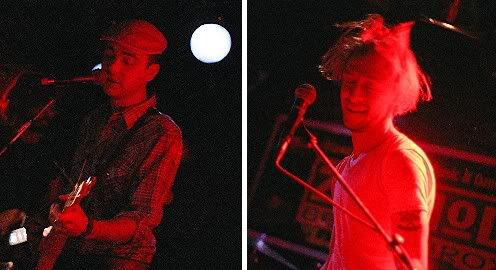 Audience participation action!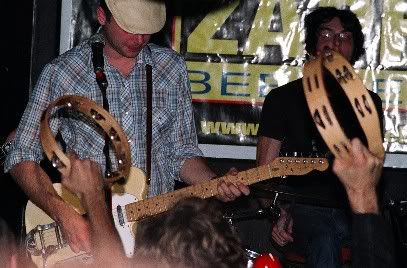 And more Age of Danger action.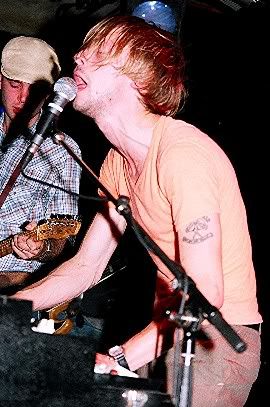 Shortly after this picture was taken, Age was eaten by a wandering zombie - really!
Show reminder: Ex-Models, Get Hustle, Quebexico and the always-popular "and more" play Babylon.
Halloween news: Prepare yourself, for here come a bunch of spooky shows! On Halloween itself, The Demolition Doll Rods return to the Dominion Tavern, possibly with Blackball. Of course there's also Halloween Hardcore 2005 at Babylon with Buried Inside, Million Dollar Marxists, Robot Kill City, The Grey, The Sweet Janes, Outnumbered, Sleeping Pilot. Mavericks has their own streetpunk flavoured "Halloween Horrorshow" with The Riptides, The Sewer Rats, The Rookers, Hands Of The Few, Cradle Robbin' Bastards, Germattak, The Manglers and The Intruders. Needless to say, with all those bands there's going to be an early start at both gigs. Scariest (or is that "skariest" of all is Skallaween at Mavericks Oct. 30, with Catch 22, The Flatliners and The Rude Dudes. There's both an early, AA show and a later adults-only gig. Ska and Halloween - I'm already terrified, I tell you ... Same day - Oct. 30 - there's a Glam Rock Halloween with

Robin Black and Manpower at Zaphod's.
Hoedown news: I'm glad to see the Rock'n'roll rodeo is once again rolling into town - Nov. 26 at Barrymore's, to be precise - with Carolyn Mark, Slo' Tom and The John Henrys.