Sharon Jones and the Dap-Kings brought a huge crowd into Babylon on a Tuesday, and played a super-hot show for them.
They're a large crew themselves: They had almost as many people on stage as White Cowbell Oklahoma did at Barrymore's (possibly more, if you count the audience members they invited up to shake it) and the stage at Babylon is quite a bit smaller.
This was one sweaty show - between the large crowd, the lights and a muggy evening the air by the side of the stage was starting to feel more like soup after the first few songs.
Sharon Jones - Soul Sister No. 1!!! Likes a fish in her dish, she says.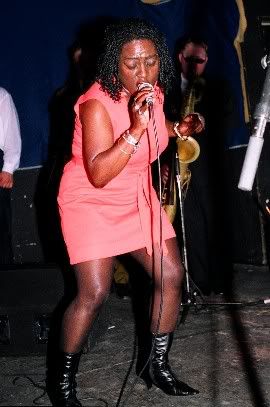 The horn section: Dave Guy on Trumpet ... Neal Sugarman on sax, "Spliffy" on bigger sax. They blow, they move, then blow again.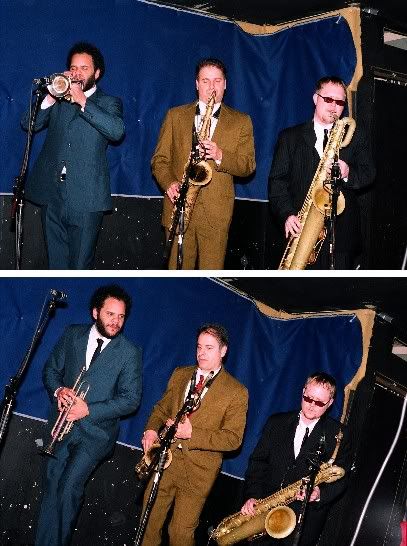 Homer "Funky Foot" Jenkins on drums and fixed stare and Bosco Mann on bass (also the group's musical director). Remember how in the
Batman
movie the villains always were filmed at an angle?
Bosco and Tommy "TNT" Brenneck on guitar. I believe Bosco is thinking "Damn, you tall."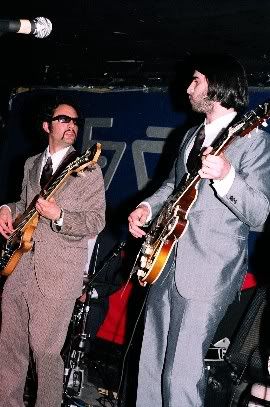 Binky Griptite, MC, vocals, and a heavily reverbed Fender (plays with a thumb pick ... haven't seen that before ... I don't go to enough country music shows, I guess).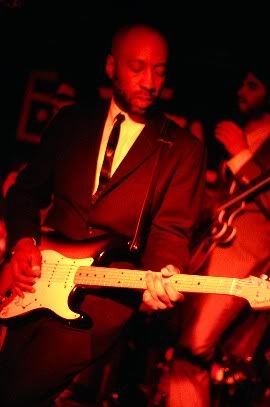 More Sharon? Why not! She really had the audience in the palm of her hand for the whole show, with both her performance and her between-song repartee.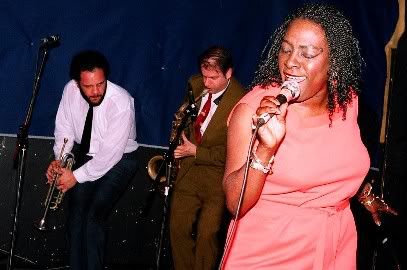 Some behind the neck guitar action from Mr. Griptite.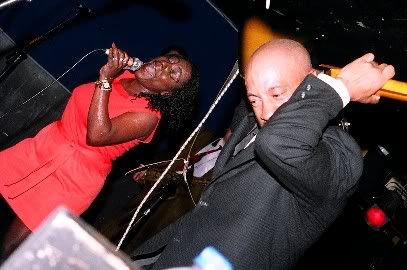 "I'm going to walk right up to the White House door ..." Sharon Jones explains politics in the U.S. and how to get that Mr. Bush's attention.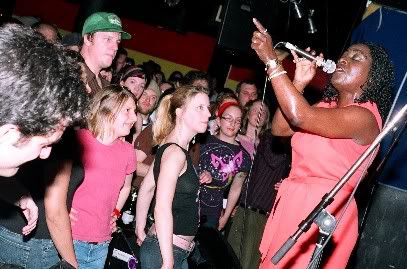 Jones, is 4-foot-11; Tommy is 6-foot-4 ... you do the math.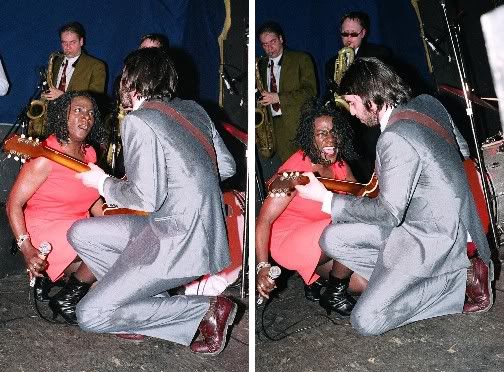 The Dap-Kings had a relentless soul and funk attack - it was a killer show from start to finish. Certainly in the Top 3 so far this year.