First, the bad news: The Parenthetical Girls' van flamed out about a week ago, so they didn't make it to last night's show at Zaphod's or, for that matter, across the border. The turnout wasn't that great either, considering the headliner has a fair amount of critical buzz to its credit - about two-dozen people, mostly local musical types.
The show itself was rally good, starting with
Glenn Nuotio
. His band seems to have left for university (or something like that), so he nicked
The Murder Plans
' rhythm section: You can see Nick Descarie and Michael Simon adding oomph in the background.
Glenn Nuotio, Zaphod Beeblebrox, Sept. 28, 2008
The Evangelicals
are from Oklahoma and get a lot of Flaming Lips comparisons (mostly to the latter band's early years). I think they also sound a bit like Dead Meadow. They put on a super show. Lots of reverbed backing vocals, one of the guitarists wore a cape, and they brought their own murky green stage lighting.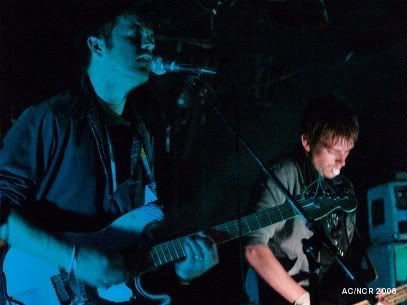 Evangelicals, Zaphod Beeblebrox, Sept. 28, 2008
I hope people don't make the same mistake tonight and take a pass on The Evangelicals' pals in
Dark Meat
.
Show reminder: Dark Meat (yes, I'm repeating myself ... really, missing this show is probably not a good thing), Fucked Corpse and Holy Cobras rock Zaphod Beeblebrox.