I popped over to the Bytown Tavern for the second night of Ladyfest festivities last night. Unfortunately I got there too late to see
The Weathermakers
, since I started watching a movie and lost track of time. Just for the record,
The Good German
should probably be called
The Okay German
. The band features a couple of Allumettes and one member of The Grey. Natasha did tell me they have a show coming up Oct. 16 with The Ruby Coast. The next band on stage (or, since this is The Bytown, on floor) was
Flotilla
. Last time I saw them was at Zaphod's in December 2006. They were missing their drummer and sounded like a fragile slowcore band that would fit well on a bill with Great Aunt Ida, Sarah Hallman or Julie Doiron. They did have their drummer on this occasion, and either his presence or the passage of time has conspired to make them sound much punchier. Veronica Charnley's dress was also mighty snazzy.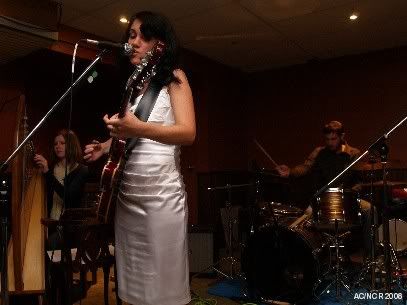 Flotilla, The Bytown Tavern, September 20, 2008
Continuing the sartorial and musical excellence, E.S.L. put on a fine show. Call it Balkan-influenced folk (but without the brass of, say, Beirut or the rock presence of Gogol Bordello). They made a lot of cracks about drinking too much at their Black Sheep show the night before, and had a plastic dinosaur for a mascot. I recall drummer Joy Mullen from The Doers' show at the Montgomery Legion a few years back. They also covered The Velvet Underground's
Venus in Furs
.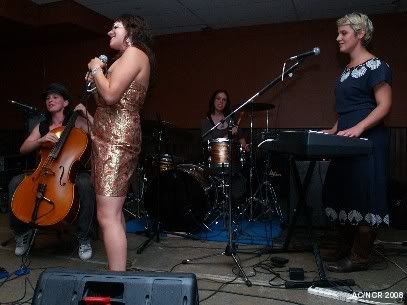 E.S.L., The Bytown Tavern, September 20, 2008
They finished off with a pitch for their buttons, postcards and CDs, then a performance of their own
I Don't Buy It
.
Show reminder: The High Dials play an early CD release show at Babylon. Contagium and Captain Finger play an even earlier show at The New Bayou. The Unavowed, Kintra and Rock City perform at Zaphod's.