About a year ago, while attending a Labour Day baseball game, Rebecca "Romps" Comeau and Patrick "Shanker" Shanks decided to form a band, in a striking coincidence, they played a Labour Day party down on Popes Lane (near Browns Inlet in the Glebe). I didn't have a camera for their first-ever show at Irene's, but at least I was packing for their first anniversary gig. My usual photographic environs is a club with insufficient light, so an actual garage at 3 p.m. was a nice change, with only minor grief due to the contrast between sun and shade. Shanker and Romps had a tie-die background for their set, along with a Romps-made sign that fluttered to the ground due to insufficient duct tape. You have to imagine that while S&R are playing there's a bunch of kids bouncing up and down in an inflated castle while a curly-haired dog chips in the occasional howl.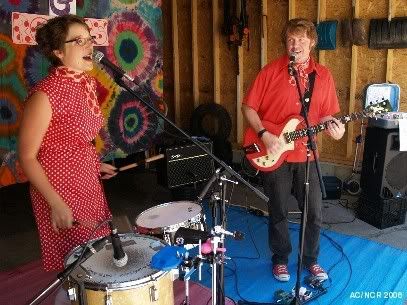 Shanker and Romps, Popes Lane, September 1, 2008
I stuck around for a bunch of bouncy rock, but had to split to prepare myself for my belated return to work tomorrow.