It's been a couple of years since The High Dials came through town, but they have a new album,
Moon Country
, to share with the world (or at least the part of it that favours Brit-flavoured psych-pop), so they've embarked on a tour of Canada and the U.S. They've put on a really solid show each time I've seen them, but that was some time ago ... I searched through old photos to see when I caught them last, and it turns out to be February 2004 at The Dominion. They've been through some turnover since then, most notably the departure of bassist Rishi Dhir.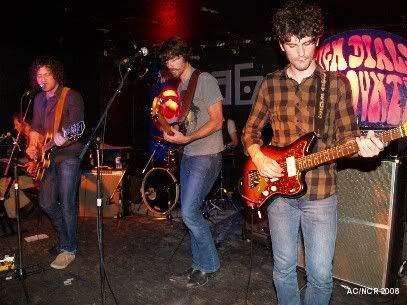 High Dials, Babylon, September 21, 2008
The new edition turns out a pretty fine show - actually, I think I prefer new bass player Seamus Cowan's style (last time I saw him was playing bass for Bullmoose, and I liked him a lot then too). They also added keyboardist Eric Dougherty some time in the last four years. Singer Trevor Anderson gets extra points for playing with his right foot in a cast.