We bid 2007 a fond farewell (or not, if you had a cruddy year) and head off into the sunset with a roundup of New Year's Eve shows. Personally I'm off to Barrymore's; if nothing else I'll get to see
Gunsmoke
at last. The redoubtable
Fiftymen
headline - here they are (or at least frontman Jeff Hardill) at the same venue a while back.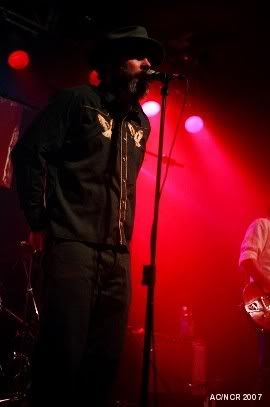 Of course there's a bunch of other stuff going on: The Bible All Stars perform at Irene's;
Politique
,
The Polytones
,
Mono Hum
,
Doll
,
The Bushpilots
play Zaphod Beeblebrox; the Black Sheep inn plays host to
The Hilotrons
,
Jetplanes of Abraham
and
The Sunparlour Players
. The Rainbow has The Hammerheads and Souljazz Orchestra will be holding down the fort at Babylon. See you next year!