And now for a great big show reminder: Andrew Dickson's new outfit
The Mongrels
put on a sensational show last time they were in town, and with local volume dealers
Muffler Crunch
and
Tokyo Sex Whale
also on the bill for this evening's gig at The Dominion, you can't go wrong if you like your rock heavy and vocalists women. Witness Andy and Mongrels banshee Amy T at Irene's earlier this year, below.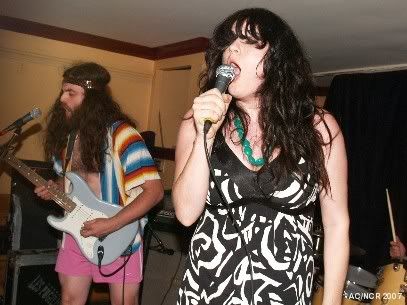 The bad news is that some other mighty fine local rockers are putting on a can't miss show at Irene's (that would be Four'n'Giv'r and a rarely appearing Castor). But wait! There's more!
Apostle Of Hustle
and
Major Maker
are on hand at Zaphod Beeblebrox;
The Holly Springs Diaster
,
Dear Solace
,
Baptized In Blood
,
Dead Winter
and
Unreachable Death
perform at Mavericks Bar and
The Dirty 30s
,
The Possums
,
Skunch
,
Onetree
and
Concerned For Crayons
rock Cafe Dekcuf. Over at the freshly revamped Elmdale Tavern,
Ball and Chain
and The Wreckers are kicking off a regular house gig (first Saturday of every month is the deal).