Damn snow! I'm not sure how folks it kept away from last night's Dog Day show, but it wasn't much fun to ford through en route to Zaphod's. Too bad for folks who decided not to brave the weather;
Dog Day
were really excellent, as was the rest of the bill.
First up,
The Noble Son
- a one-man show with an acoustic guitar, a looping pedal and some well-deployed guitar FX. His banter might benefit from some streamlining, but otherwise the set was really good.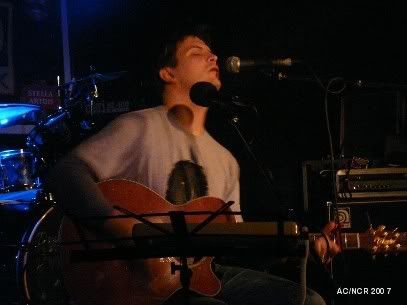 The Murder Plans
followed; as before their set was definitely rocking.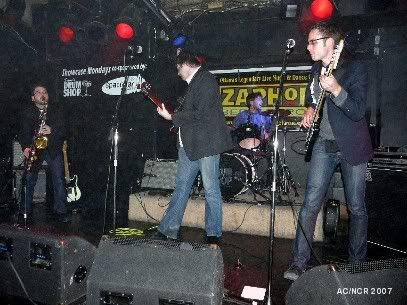 Finally Dog Day laid down some very robust indie pop. Some of the guitar tones made me think of The Cure, but without the affected singing.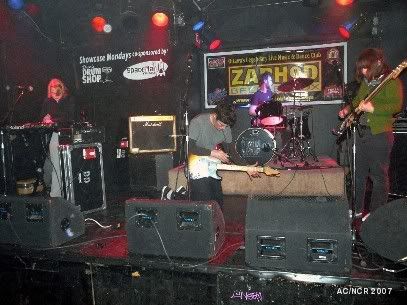 And now onto other business: Jeff Martin of
Harshey
e-mailed me (and a bunch of other folks) last week to say that Harshey is no more. They're playing one last show, and then going off to their other bands: Garaga, The Allrights, four-stroke, elbeejay and so on. Here they are at Mavericks in June 2006.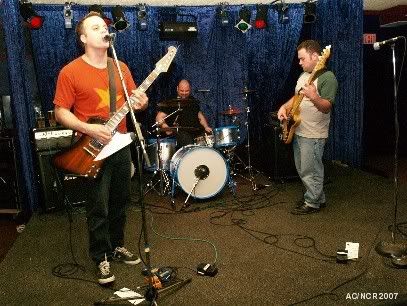 They'll take their last bow (until the reunion) at Zaphod's, Dec. 20. with
The Vanity of Human Wishes
.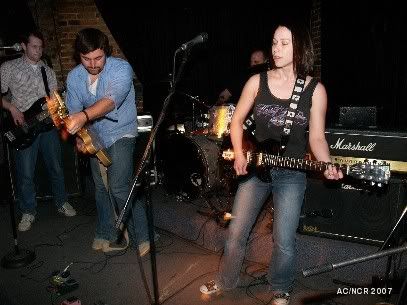 Speaking of the Allrights - shown above playing at Cafe DeKcuf in April - they're playing tonight at Zaphod's with Cardiff combo Los Campesinos.