The discriminating listener has a couple of fine shows too choose from: Over at Zaphod Beeblebrox,
Casey Comeau
and
Andrea Simms-Karp
will perform. Here's a photo of Casey and Richard Jeffrey in post-Half-Milers, pre-Wilderness Club at Irene's in March 2005.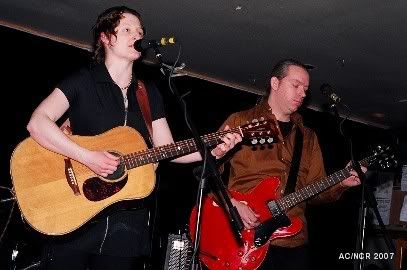 Speaking of Irene's,
ManPower
is celebrating their Season's Beatings Christmas shindig along with
Remi Royale
,
The Unkown Wrestler
and one-man band
BA Johnston
. I'm sure it will be a sombre and reverential event, possibly involving sliced meat.