Last night I watched a fine Hong Kong crime movie,
Mad Detective
(it's about a detective who's quite, quite mad) then went over to The New Bayou for the record release show for The White Wires. They're a much-talked about local trio, as everybody who reads this blog knows. Now that I think about it, most of the regular Ottawa readers of this blog have already seen them live - they're one of those bands I keep managing to miss. Onward!
The opening act was to have been The Fifth Fist, but they couldn't make it, so the slot went to The Visitors who played a set up of pop punk that made me think of a cranked up Muffs, particularly when Antarctic-Cat da Gama handled the singing. Drummer Kevo Polo can also be seen in The Annoyers, while guitarist Skottie has made numerous NCR appearances fronting The Creeps. They threw out a couple of new tunes as well.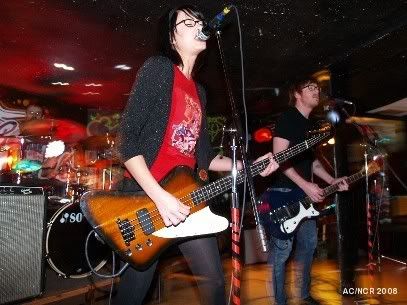 The Visitors, The New Bayou, November 29, 2008
In between sets, DJ Nate (Hurlow, that is, also of deceased or irregular combos The Dead City Rebels, Fortunate Sons, Golden Famile and Rickity Ship) spun some punk rock and rock'n'roll tuneage.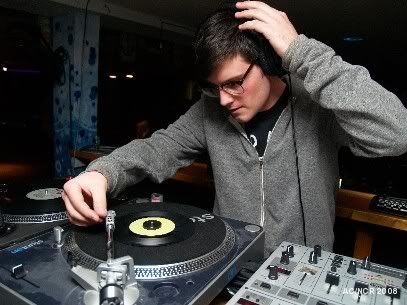 DJ Nate, The New Bayou, November 29, 2008
The School Jerks came up from Toronto to play their first Ottawa show. Nasty sneering hardcore that's like The Brutal Knights, but without the goofball humour. That's not a criticism - they had a real edge.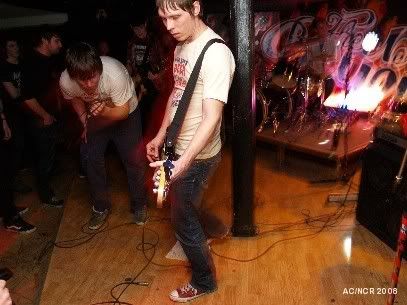 School Jerks, The New Bayou, November 29, 2008
Finally The White Wires played a triumphant set. As mentioned earlier, Allie from The Felines (and The Misclits and Captain Foxy, come to that) drums. Sedatives organist, sometimes Cryptomaniac and Gaga Records supremo Ian Manhire fronts the band and Million Dollar Marxist Luke Nuclear plays bass. So alot of familiar faces turning out the power-pop-punk.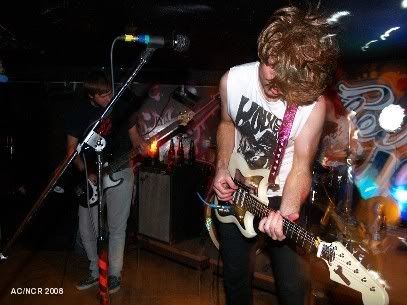 White Wires, The New Bayou, November 29, 2008
It was an energetic evening that ended up with the audience dancing on the stage and running off with Ian's hair.