Lil' Ed Williams
comes from a strong blues tradition - his uncle was J.B. Hutto , who learned his trade from slide legend Elmore James and took over The Houserockers after the death of Hound Dog Taylor, in addition to leading his own band, The Hawks. His nephew is doing the family tradition proud, with a juiced up Chicago blues show along with his band The Blues Imperials.
Lil' Ed, one snappy dresser.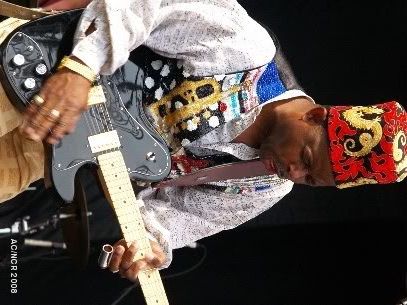 Guitarist Mike Garrett; Mike also sung a song or two.
James "Pookie" Williams, Ed's half brother, although since he's about twice Ed's size I guess he adds up to a whole brother. He sang
Got My Mojo Workin'
.
Kelly Littleton mans the traps.
Kaz Kazanoff and The Texas Horns also lent a hand ... here Kaz trades in his sax for some harp.
Al Gomez toots his own horn.
And now for some blues action - of which there was quite a bit.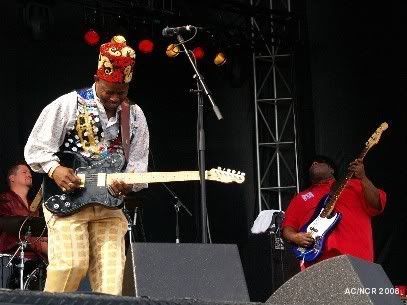 Faceoff action!
And one last-minute hop!
A very dynamic performer.