I caught the second night of Matt Mays and El Torpedo's Barrymore's gig; he's acquired a good following in Ottawa since I first caught his act at a free Zaphod's showcase years ago - good enough for one sold-out show Tuesday and what looked like a very full house on Wednesday.
Hamilton rockers
The Arkells
opened the show. The shaggy roots rockers have a similar sound to Mayy Mays and Co, with an identical instrumental lineup. They deviate a little from the standard course with a reddish tinge to their lyrics and song titles like
No Champagne Socialist
and
Ballad of Hugo Chavez
. They're going to be back in town in just a few weeks time - November 22, that is - for a show at Zaphod's.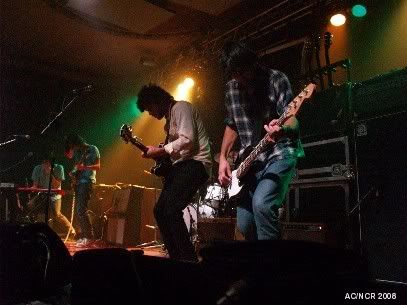 Arkells, Barrymore's, November 5, 2008
Matt Mays went with the all-white look for this show. It was the usual raucous Bruce Springsteen-influenced roots rock he's been trafficking in of late, performed with a lot of gusto by El Torpedo. He did segue into a bit of acoustic work with a Gordon Lightfoot cover (
Carefree Highway
? I'm not enough of a Lightfoot fan to recognize anything but
The Wreck of the Edmund Fitzgerald
by ear) he'd originally hoped to debut for his dad ... he didn't have it ready in time for the gig his parents showed up for, did did bring it out for the local crowd.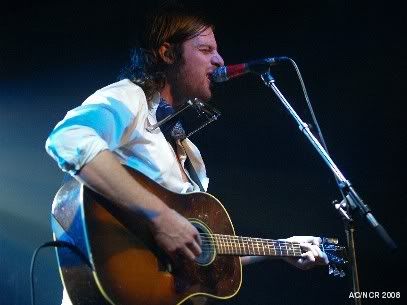 Matt Mays, Barrymore's, November 5, 2008
The show ended with The Arkells coming on stage for the encore, which included a cover of The Rolling Stones'
Wild Horses
and the longest band introduction ever.