Zaphod's was pretty crowded last night for the Attack in Black/Ladyhawk/Shotgun Jimmie tour's pass through town. I've seen Ladyhawk a couple of times and am a big fan of their first record; Shotgun Jimmie impressed me too when he came through town as part of Shotgun and Jaybird. Of Attack in Black I knew naught, but they fit in well with the other acts.
Shotgun Jimmie started things off - the members of Attack in Black served as his band. That's AiB bassist Ian Kehoe just behind him. Jimmie's released a solo album since the demise of Shotgun and Jaybird, though I note that Julie Doiron was around to sing with Attack in Black and Dick Morello was also on hand to man the merch table. For some reason the band decided sweaters would make a good stage outfit.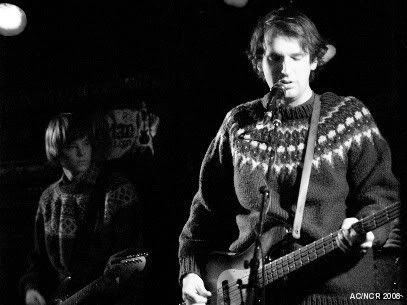 Shotgun Jimmie, Zaphod Beeblebrox, November 6, 2008
Next up were Ladyhawk ... they seemed a bit more jammy this time around. They ended their set with Duffy Driediger taking microphone in hand and head onto the dancefloor for a crooning-heavy number that was actually pretty good. As always bassist Sean Hawryluk wins the nightly award for best hair-waving ... no wonder he has to tie on his glasses.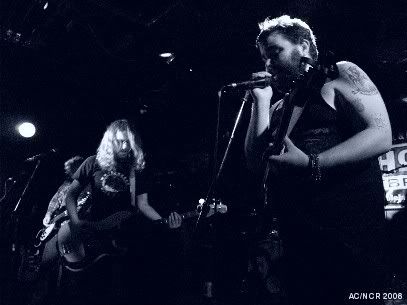 Ladyhawk , Zaphod Beeblebrox, November 6, 2008
Attack In Black
were pretty entertaining too. Like Ladyhawk they're influenced by electric Neil Young and finished their set with a outburst of guitar-flailing hard rock. They can also do the quiet stuff and scaled back to melody quite nicely on a few numbers.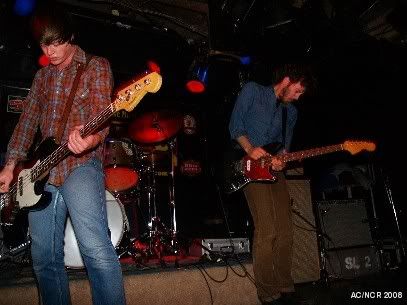 Attack in Black, Zaphod Beeblebrox, November 6, 2008
The tour has a few more stops in Ontari before it wraps up in mid-November.