Well, Priestess has finally gotten around to recording the followup to
Hello Master
, and even though it isn't set for release yet, they're taking some of its tunes out on the road, accompanied by hometown fellows Barn Burner, Toronto boogie merchants Flash Lightnin' and B.C. riff monsters
Bison
(or Bison B.C. as they're known due to the presence of another Bison, which appears to be some kind of joke ska band).
First up, Barn Burner. They've got a hard thrashing sound and an excellent drummer to supplement their two lanky guitarists. The vocals could use some work, but they're young yet and no doubt after yelling for a month straight, singer Chevy will have attained a suitable metallic hoarseness.
Barn Burner, Mavericks, November 11, 2008
When a band called Flash Lightnin' rolls through town I expect something a little glammy. The beards and Canadian tuxedos gave away the fact that you can't judge by a name. Flash Lightnin' is in fact a mighty boogie rock power trio who should actually come from somewhere south of the Mason Dixon Line. Darren Glover - who I believe served a spell in Matt Barber's backing band - wields the axe and sings. You can make out Darcy Yates (whose resume is too long to list, but includes folks like Amy Millan and Fred Eaglesmith) on bass at right and Chris Henry on drums at left.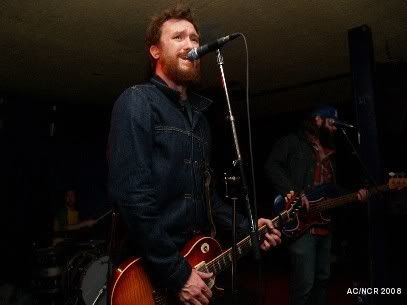 Flash Lightnin', Mavericks, November 11, 2008
Next up, the mighty Bison B.C. steamrollered the audience with some High on Fire-flavoured DOOOOOM. They played a ferociously intense set. I bought their new CD and a T-shirt - my first T-shirt purchase in quite a while. They actually came through town a few weeks ago with Genghis Tron and seemed quite happy to be back again.
Bison, Mavericks, November 11, 2008
Priestess rounded up the night. Their new stuff sounded pretty good.
Communicating With Eyes
kicked off with some creaky solo stuff from Mikey, then got super-heavy.
Gem
and another tune called "Baffles" on the set list also hit pretty hard, but the stuff that really got the crowd moving was of course their hits
Lay Down
and
I Am The Night
.
Priestess, Mavericks, November 11, 2008
A mighty fine show, and a big crowd too. If it wasn't a sellout, it was damn close: There were 10 tickets left as showtime approached.