There's something for everyone this Friday - I, for one, will be at the reunion show for
The Trapt
, Fluid Waffle and
Flag of Truce
at Babylon, but if old school hardcore/mod/psych/hardcore/etc. isn't to your liking, you can always head next door to Barrymore's and check out Toronto's top pop brats
Spiral Beach
(depicted below at Bluesfest this year) and
The Hidden Cameras
.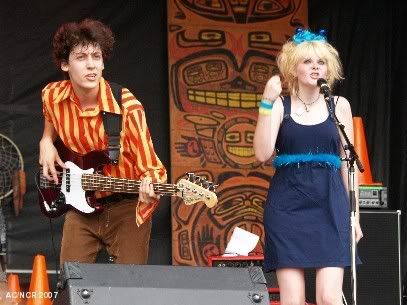 If you like your pop a bit earlier in the evening, there's
Spookey Ruben
and
Auto Racing
at Zaphod Beeblebrox. Over at Irene's you've got
Micarza Camaro
and
Chris Page
. I took a listen to
Ghost Bees
,' Myspace tunes and was very impressed - I may even check out their very early show at the Avant Garde with
Leif Vollebekk
and Peterborough's capitals-adverse
evening hymns
. For other punk stuff,
Ripcordz
and
The Riptides
,
The Leftovers
and
Clock Strikes
play Cafe Dekcuf. Last but not least, at End Hits you can catch
The Artist Life
,
Riot Service
and
Fire Heats Water
.