Brutal Knights
are one of my favourite punk rock bands, so I'm darn embarrassed to have only caught them live on one occasion (depicted below) at The Dominion on a bill with The Sweet Janes in March 2006, despite their repeated trips to Ottawa. No difference this time - I'm working - but punk-minded folks should check out their gig tonight.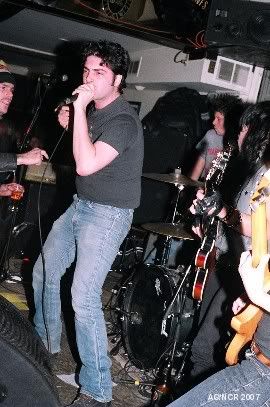 They appear at the A&A Speedshop at 279 Flora with Janes offshoot
Holy Cobras
,
Germ Attak
and
Suppositories
tonight. Also heading for the limelight tonight are Sydneyites
The Tom Fun Orchestra
with
Shannon Rose and The Thorns
at Zaphod Beeblebrox and experimental guitarist
Eric Chenaux
with
Sandro Perri
(the man behind Polmo Polpo) at the Avant Garde Bar.