I'm off work for two weeks - yay! I'm still going to be damn busy fomenting nefarious plans and the like, though, so expect bursts of inactivity around these parts in the days ahead. As for the immediate future, you might want to consider going to see
Peter Elkas
and
Bullmoose
tonight at Mavericks, two performers I quite enjoyed seeing separately at that very venue. Here's a shot of Elkas with Alanna Stuart guesting from Jan. 14, 2006.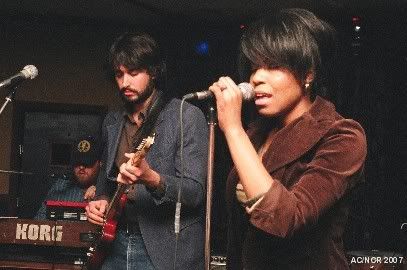 Over at The Dominion Manpower and 90 Pounds of Ugly (
Lefty McRighty
's other band, as I understand it) will be rocking on behalf of the Sid Ford Foundation.
The Spill Canvas
,
Meg & Dia
,
Play Radio Play!
and
Treaty of Paris
play a sold-out show at Babylon; later in the evening Brockway Biggs will be dropping some rhymes and rhythms along with an armada of DJs at the Peaceful Journey 11th anniversary shindig.