Well, I was going to see Boom Creek and Mighty Eagle Band tonight at Irene's. I did in fact go to Irene's (almost twice, since I returned home to get some earplugs), only to discover the show had been cancelled. They didn't even have their own chalkboard updated, so I'm guessing it was kind of short notice. Unfortunately I passed on Malajube and Julie Doiron to go see it. Oh well, here's a picture of Malajube at Bluesfest 2006.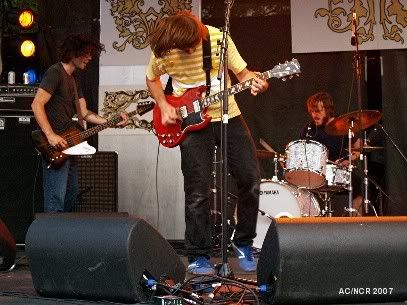 Well, at least there's some rocking shows on tonight (that'll I'll miss due to work ... Grrrr!):
Fucked Corpse
and
Heille Gros Tas!
perform at 1848 (on the second floor of the University of Ottawa's University Centre;
Capital Grass and the No Men
are going to perform three sets at the Rainbow Bistro; and the mighty
Pride Tiger
are playing at Zaphod's with
Garaga
,
These Electric Lives
and
Hemi-Loco
.