Things are going to be quiet on the photography front for the next little while - the only thing there's a chance I'll make before my next break from work barring a show from Starsailor on Monday is the Field Registry, Poorfolk and The Soiree at Irene's (even then, I'm gonna be late). Thus for the next week prepare to read my brilliant opinions on music and see mouldy old photos from the depths of my back catalogue.

I'm a big fan of freak folk acts like The Dave Redford Trio, Ben Chasny's Six Organs of Admittance, No Neck Blues Band and the older outfits from who they draw inspiration: Ed Askew, Incredible String Band, Simon Finn, Gary "
Red Hash
" Higgins, Comus and the like. Despite that, I've been late to the party when it comes to
The Wooden Wand
, a.k.a. James Toth, and his co-conspirators in the Vanishing Voice and Sky High Band. It's a pretty big party - I strolled over to the discography to see how many releases he had. About 46, including CDs, LPs, cassettes and CD-rs. This crew obviously adheres to the Acid Mothers Temple school of music production!
His solo album
Harem of The Sundrum & The Witness Figg
is his debut album, it's also the first one I picked up. Despite bearing the imprint of the 5RC label - which is also responsible for releasing works by bands like Deerhoof and Amps for Christ - it's fairly straightforward. There's a second guitar (I suspect multi-tracking). There's also a second, female voice for harmony - other than that it's just Mr. Toth sounding a bit like Devendra Banhart at his loneliest.
Another 5RC release,
Gypsy Freedom
, released earlier this year is a far less lucid affair - not that there's anything wrong with that. Free-jazz saxophonist and flautist Daniel Carter guests, and his tendency to wind along permeates the album. He teams with a female vocalist for a stripped-down sax and voice duet on opener
Friend That Just Isn't So
. That's a prelude to the No Neck Blues Band style free form folk of
Didn't It Rain
. Jangling bells, aimless flute, some bassy thumping and a stumbling raga figure will make you wonder if you haven't slipped a Cerberus Shoal album into the player by accident.
My favourite one is his recent
Second Attention
. A few facts about this album: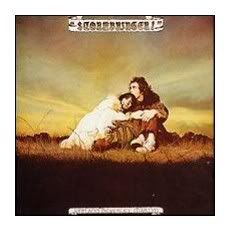 There's an ultra-echoey duel between guitar and organ on

Portrait in The Clouds

that makes 1960s garage rock sound hi-fi.
There's Bob Dylan-grade snark on the the spiritual putdown

Crucifixion, Pt. II

.
The cover appropriates the artwork from John Martyn's

Stormbringer!

(Pictured at right)
Apart from the various acts I've already cited, I'd recommend The Wooden Wand to anyone keen on Will Oldham's multiplicity of projects, Leonard Cohen, The Sun City Girls, Alphane Moon, Espers and Current 93. The incorporation of religious themes put me strongly in mind of Current 93's
Black Ships Ate The Sky
.