There are plenty of good shows happening this weekend, some of which I'm going to miss due to work, some of which I'm going to miss due to a late birthday party. So I'll yap about them now.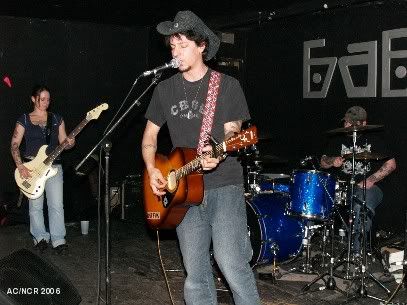 First, Lefty McRighty and the Boxcar Cadavers are holding their CD release party tonight at Zaphod's. The late shift will keep me away, but I'll say that the shindig - also featuring
Bob Heath & The Staggering Drunks
and
Evil Farm Children
- is feting a fine album. Apart from the band members themselves, I have to say the Bovas did a killer job on the production and mastering. Some may sneer at at the inclusion of jokey tunes like
Big Nipples
, and grumble about "authenticity" and suchlike, but look at this way: Johnny Cash never shot a man in Reno, but Greg Harris might actually be a boob man. You can't get more authentic than that ...
Up in Wakefield,
i(heart)music
is celebrating its first anniversary with three nights of shows at the Black Sheep Inn.
Pony Up!
,
The Soft Disaster
,
Heroes and Villains
and
Relief Maps
perform tonight. The Relief Maps just released their debut EP
Sunrise Seaport
. More fine production courtesy of my dad vs. yours' Arturo Brindisi (Harris Newman also does his usual high quality mastering job). I think Katie Duross has one of the best voices on the Ottawa music scene right now; the band itself reminds me of The Organ, but with more stage presence. Saturday
Land of Talk
,
Expatriate
and
Spy Machine 16
(a fourth band will hopefully step in for the suddenly on hiatus
We Are Accidents
).
Raising the Fawn
,
My Dad Vs. Yours
,
What Seas, What Shores
and
Turning Into Salt
wrap things up on Sunday.
Fortunately I won't be totally deprived this weekend: Phantom Shifters return from the junkyard for a show with
Long Timers
, Death March Volunteers,
Army of Saint Joan
play at Babylon Saturday. You may notice some membership overlap ...