It's a good thing I'm a hardy Canadian lad and have become inured to Ottawa's cruddy winters - the weather offered up just about every inducement to stay home it could. I'm glad I did: Acres put on an even-heavier performance than usual. They've sure come a long way in the year-and-a-half they've been playing live. It's been a while since I saw The City Above - the last and first time I caught them was in January. They sounded a bit more loose-limbed this time around, perhaps because they're now a bass-less quartet. I hear shades of Failure and Sebadoh that I don't think I perceived last time.
My camera's still in limbo (I'm going to do some serious cage-rattling later today) so I have no pictures of last night's show. I do however have a past snap, previously unpublished, of a band that's playing tonight at Barrymore's:
Hellbros
.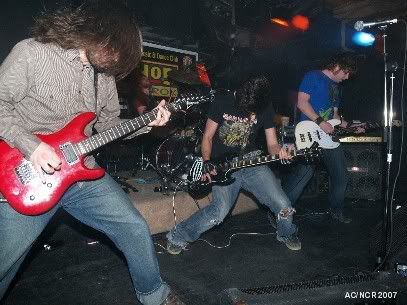 They share the bill with
No Other Way
,
ClockStrikes Music
and
Sadie Hell
. They aren't the only band treading the boards tonight:
The Double Pumpers
will be performing at Zaphod's as part of the Mustaches for Kids benefit. Yogi was running the board for Acres and The City Above and played some tracks from the band's new album - it sounds really sharp.