According to advance billing, The Sheepdogs ("Canada's shaggy men of rock'n'roll), The Lovedogs,
For the Fairest
and
New Teeth
were sharing the bill at Zaphod's Monday free showcase. Alas, the Sheepdogs cancelled. It also seems that The Lovedogs and The Sheepdogs are the same people, so that chopped the bill in half. It still managed to be pretty eclectic though.
First off were For the Fairest, an acoustic folk duo featuring Steph Sears (shown below) and Jean-Guy Menard, who isn't. Sears has a good strong voice and is a decent picker. Her songs struck me straightforward singer/songwriter stuff - not overly memorable but nothing that made me cringe either. However, Menard was way too busy on the drums for my liking. Even using brushes it became a distraction.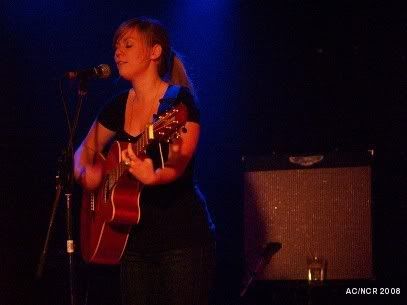 For The Fairest, Zaphod Beeblebrox, Sept. 15, 2008
New Teeth were a knockout. They had the zip and punch of a good powerpop band, but filtered through some post-punk and new wave. I was trying to think of a good band to compare them to ... the closest locally I could think of was Relief Maps.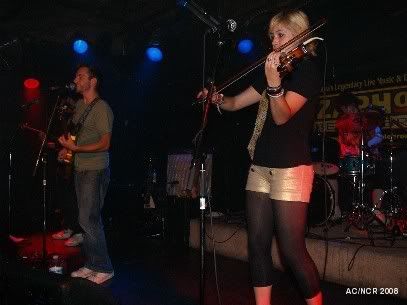 New Teeth, Zaphod Beeblebrox, Sept. 15, 2008
They also attracted a surprisingly large and enthusiastic crowd for a Monday. I strongly suspect they'll be an even bigger draw soon.
Show reminder: Square Root of Margaret allegedly perform at Irene's. Perfection Plastic and Tympanic Audio play Zaphod's.