Always good to see the folks from the
Golden Famile
again - the first band I photographed, when they opened for The Asteroid No. 4. They released their third album at a show in June and then took a breather for a few months, at least as far as public performance goes. They sounded really sharp at this gig.
The whole Famile.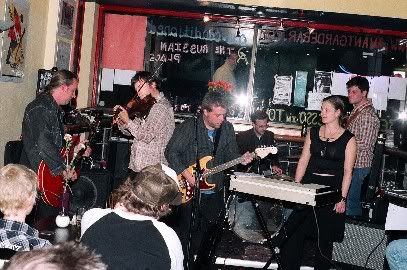 Darrell Angus gives a yell as Ryan Hough saws and Caseau Comeau tickles the ivories.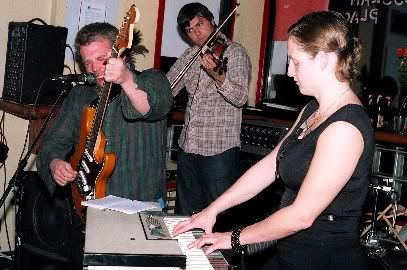 The Avant-Garde Bar's "stage" is not ideally suited to sextets, so Richard was stuck off on the left.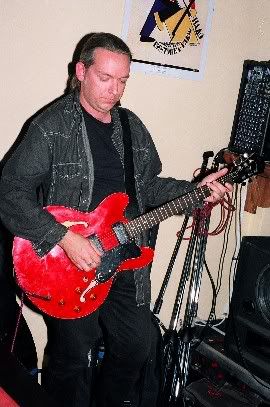 I bounced the flash for this picture of Nate Hurlow. It didn't work.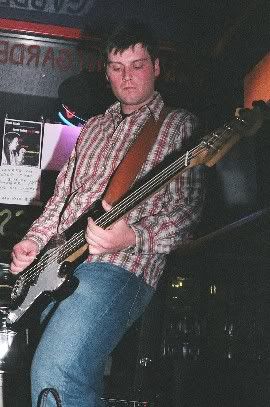 Mike Sheridan in motion.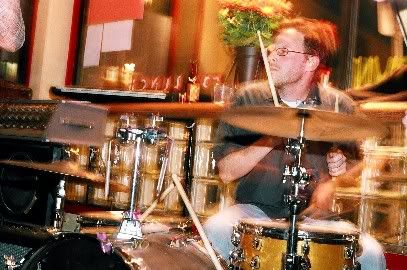 All their hard work (plus a reference to Russia in the closing number) got them shirts and shots from the AGB staff. The Famile play at Barrymore's Nov. 18 - the CKCU show with The Black Keys, Nathaniel Mayer, and others.
Show reminder: The Bell Orchestre and Kepler perform at the Black Sheep Inn in Wakefield, Que. The Gris Gris and Expatriates perform at Babylon; as with most Mod Club night shows, expect an early start (EDIT: Just got back from a fine show by The Expatriates; apparently Gris Gris didn't make it over the border).