Surveying the almost empty confines of Babylon as Dave Kerr of Evil Farm Children performed a solo set, I asked myself: Why such a cruddy turnout? Did all of Ottawa's rock fans slip on the sidewalk and hurt themselves? Did they all follow four-stroke to North Bay? Didn't want to be late for church tomorrow? I guess a few went to Mavericks to catch Anvil and company, but still, not good people! Anyway, enough sulking from me and on to the pictures.
Dave with his shiny hypno-Gretsch. As you can see from the banner behind him, this was a benefit gig for Degeneration Overdrive. See, you bad people have set back the cause of degeneration!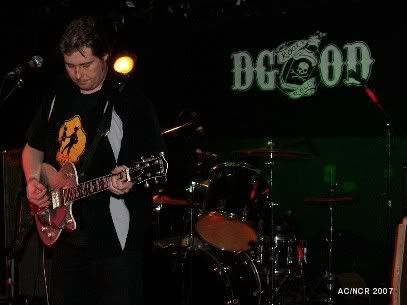 Arson Eagles rocked like crazy, Backyard Babies, early Hellacopters, Union 69 style.
By the time The Sweet Janes hit the stage there was about two dozen people in the audience; not a disaster, but still pretty cruddy.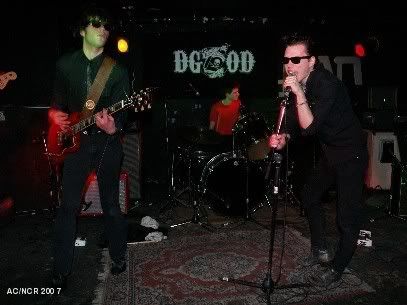 You all missed Grady spitting blood, too!