Who is
Zozobra
? Apparently, he's a giant puppet burned by the Santa Fe Kiwanis during their big yearly fundraiser. Sometimes he's called Old Man Gloom. And if that name rings a bell, it's because Zozobra's mainman Caleb Scofield plays in the California band of the same name. And yes, the Cave-In bassist also fronts Zozobra the band (OMG drummer Santos Montana also features in Zozobra). You want extra Cave-In action? Okay -
CI guitarist Adam McGrath is helping Caleb and Santos fill out the sound on tour. The remaining man on stage Monday at Barrymore's was McGrath's mate in Clouds, guitarist Jim Carroll. Everything's connected, I tell you!

Now, some (not very good) pictures! Caleb started things off with a turn solo on guitar.


He switched to bass for the rest of the set.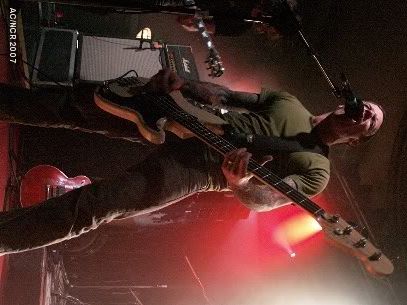 Santos Montana. Yes, this is undoubtedly my worst drummer picture ever, and that's saying something!


I can't tell Zozobra's guitarists apart, but I believe this is Jim, purely because all the pictures of Adam I've seen have him toting a Les Paul. Note the Dungen tee.




Adam? Your guess is as good as mine. Or possibly better.




That's some shadowy action!




I like silhouettes, and this one in particular.




Pretty damn cool - I picked up their tour edition

Harmonic Tremors

LP and it's real solid. I particularly like it that these guys aren't just growlers.