A, Hydra Head! The U.S.-based level is Isis mainman Aaron Turner's baby, and has produced an interesting slew of records that carry heavy music about as far from the pentatonic (and possibly pentacle-influenced) beginnings of such heavy music icons as Black Sabbath as it's been. Isis is still touring on the strength of their latest critically lauded effort,
In The Absence of Truth
(out on Ipecac) and brought labelmates Jesu (who just released
Conqueror
) and Zozobra (who also have a new effort,
Harmonic Tremors,
to usher about the globe) out with them to pummel eardrums throughout North America.
First up, Zozobra. Frontman Caleb Scofield is also in Cave-In and Old Man Gloom.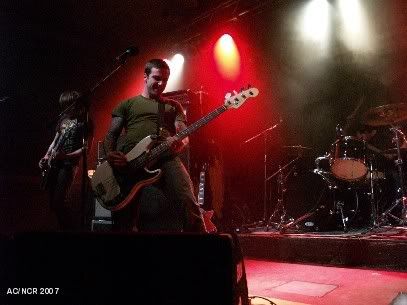 Next up, Jesu, the brainchild of Justin Broadrick. He's come a ways since
Scum
, I'll tell you.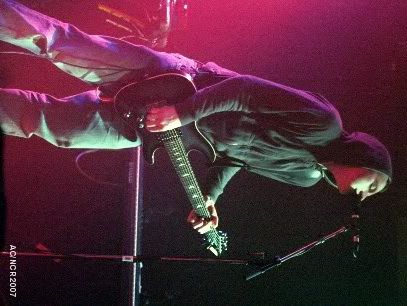 Last but not least, Isis, in suitably oceanic green.
I overheard much philosophizing inside and outside Barrymore's on the meaning of "metal" of this show. All I know is I enjoyed Isis a lot more this time around.