July 3 I slipped away to End Hits to see Captain Foxy - a local group I've never seen before - and Calvin Johnson, K Records founder. Captain Foxy play punk rock about unrequited love and oddball indie pop about working in an ice cream store. Or is it the other way around? It was 10 days ago and I can't recall anything that ancient.
Rekha on tambourine and vocals.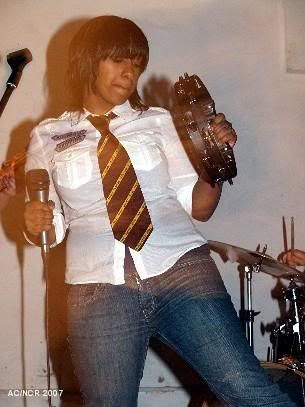 Chris Landry, once of Expatriate.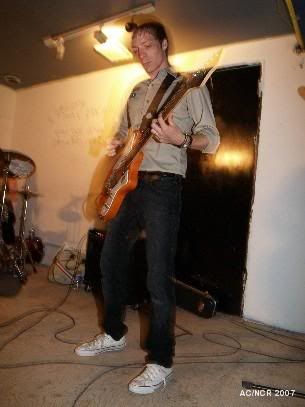 Allie Hanlon on drums.
Unfortunately I failed to get a good solo photo of bassist Andria (or of much else, I'm almost moved to say).
The whole lot!
Foxy action!
Captain action (it's quite similar, you'll notice)!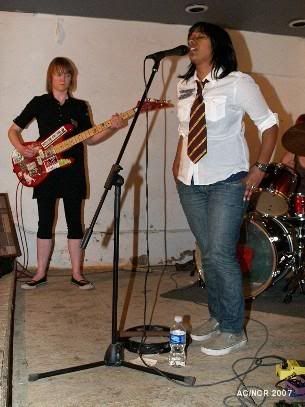 After that it was time for Calvin Johnson to take to the stage. Of course since this show was in End Hits' basement there was no stage, so he made do with a small bit of grey carpeting. Johnson has turned to acoustic balladry, which suits his careworn baritone and heartbreak lyrics. For this show he just stuck with acoustic guitar - he didn't even plug into a PA, not that one was required in the End Hits' basement with such an attentive audience. He also performed a capella on Move Around,
When Hearts Turn Blue
. He covered Dusty Springfield's
A Little Bit of Lovin'
, which he said he admired for its combination of Memphis musicianship, Brill Building songwriting and Brit blues vocals.
All of my pictures of Johnson also turned out irredeemably horrid with but a few precious exceptions. Here's Johnson and his audience.
And him busting a few moves during the a capella
Move Around
.
An entertaining and occasionally funny show. I definitely heard some tittering and the odd guffaw.
Show reminder: Brock Zeman performs at Irene's. In addition to their Bluesfest gig, The Deadstring Brothers will perform at the Rainbow.