Monday was a leisurely day for me. Instead of running to and fro between stages I stayed at the Black Sheep Stage (er, mostly). I did cut by the Rogers Stage to snap a couple of pictures of the Elmer Ferrer Band. He's become something of a festival mainstay and will be playing again today at 6 p.m. on the River Stage. Don't be surprised if he turns up again next year.
After that it was off to see locals Relief Maps start things up and sweat a lot. Apart from some strap breakage - never seen that before - it went off very well.
Up next were In-Flight Safety. The Halifax band plays the delay-friendly harmonic rock of the early 1980s British outfits like Chameleons and Echo and the Bunnymen.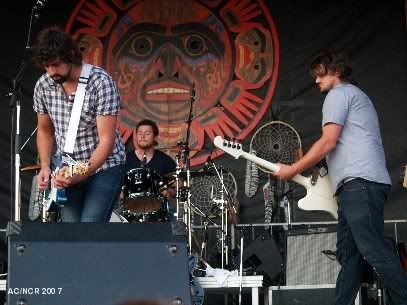 I did briefly consider checking out Buddy Guy, but the River Stage was already quite jammed a half-hour before the blues legend's set. I would have thought Guy would be on the main stage, but as was the case last year for shows early in the week, Bluesfest booked an act for the younger crowd. I toddled back to see the Black Sheep Stage and a close-to ringside seat for Final Fantasy. I was knocked out by Owen Pallett's set at Bluesfest two years ago. Even without the element of surprise he put on a fab show. There was a visual element provided by Stephanie Comilang (who also did his
This Lamb Sells Condos
video) using an overhead projector.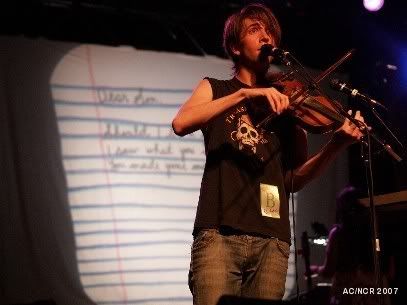 As for the main stage, as I pedaled away I could hear Hedley sing a version of Bob Marley's
No Woman No Cry
that could move a grown man to tears ... and I don't mean that in a good way. I'll probably head back to the Black Sheep Stage today for John Allaire, maybe check out a little Randy Newman - then it's a coin toss between Alejandro Escovedo and Los Lobos.