Off to another day of Bluesfest. My first stop: The River Stage for a few minutes of F!ghtF!ghtF!ght. While I was there they played a number from their soon-to-drop sophomore CD. The official release show is August 10.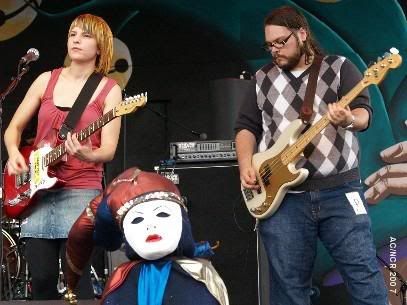 I stayed for about 20 minutes, but the act I really wanted to check out was over on The Black Sheep Stage. Spiral Beach wowed me when they played Mavericks a while back, and they were also excellent this time around. They too have a new CD coming out, called
Bomb
. It looks like they've been hitting the bottle (of peroxide, that is) pretty hard since that earlier show.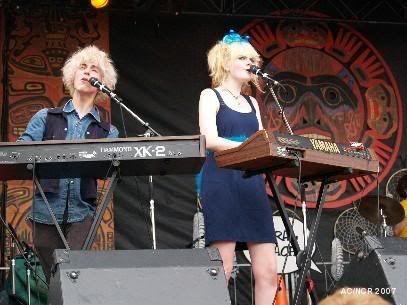 I met a coworker there and we decided to traipse back to the River Stage to see Ukrainia! perform. Lots of high-kicking and dancing from the enthused crowd at this gig.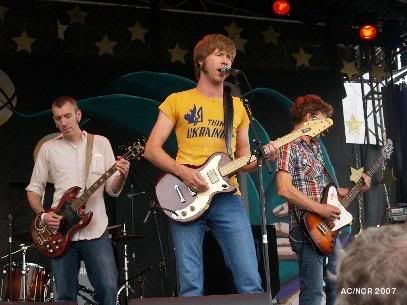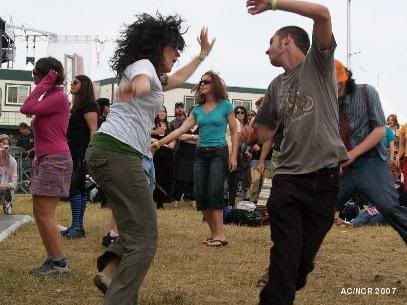 We returned to the Black Sheep Stage to see Ohbijou. I thought they were okay, but my companion found them a bit dull.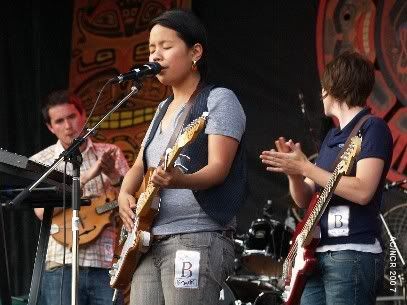 Thus we went over to see Joel Plaskett and Co. Despite his sterling live reputation I thought he was a bit ho-hum. I love his albums, so perhaps he just wasn't hitting his stride yet.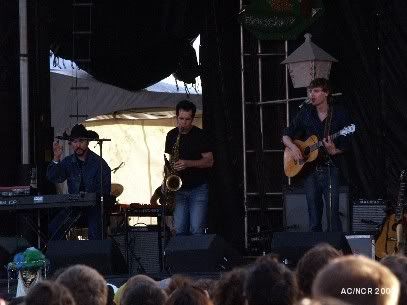 My coworker didn't care much for him either, and the sun was right in the audience's eyes so we decided to go off to the River Stage, which had the benefit of both Shout Out Out Out Out and tree cover. More high kicking, microphone swinging and stack climbing to add to the fun.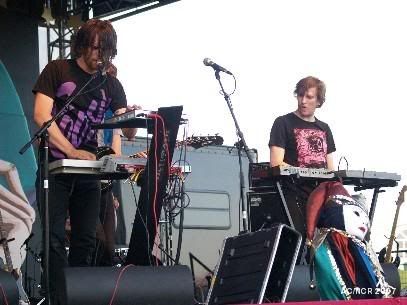 That done, there was a bit of a hole in the schedule to fill. Leahy was really the only option. Unfortunately, Celtic music is one of the few varieties that is largely lost on me. The crowd liked them, though.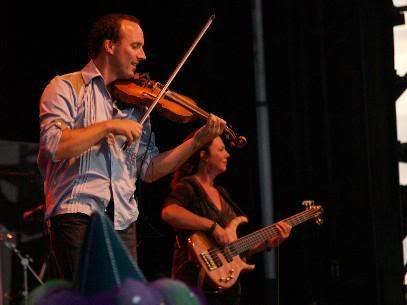 The big news for Sunday's Bluesfest was The White Stripes performance. I did see a chunk of it, but I confess I crept away after a half-dozen tunes to check the turnout for Hawksley Workman (jammed) then scuttled over to the River Stage to see the end of The Flatlanders' performance. They sounded great and ended with a cover of Terry Allen's
Gimme a Ride to Heaven, Boy
.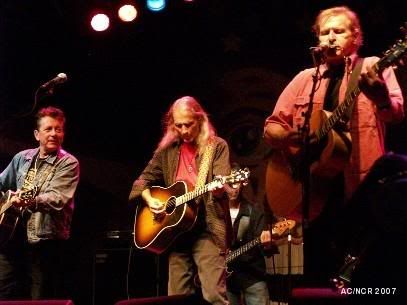 Then I went back to catch The White Stripes last two songs and a lengthy encore, which included Meg singing
Cold Cold Night
(and playing a bit of organ),
Hotel Yorba
,
Seven Nation Army
and
Bollweevil Blues
. I enjoyed the show much more from way in the back than in the midst of the crowd. The sound was also good, though the delay between it and what you see on the screens is quite noticeable.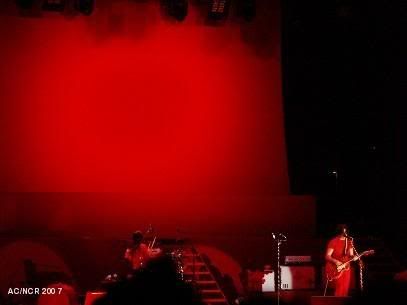 As you can see from the above picture (taken early on), I couldn't get too close. You can also tell the Stripes' stage designer is big on the colour red.