I decided to walk down to Bluesfest instead of bicycling. The afternoon showers had left puddles everywhere and I didn't feel like standing about and watching the show with wet feet. It's not too long a walk from MacLaren St. to Lebreton Flats anyway. As I approached the number of people toting collapsible chairs turned into a steady stream. I left my own chair at home figuring that there'd be no place to put one down.
There was a huge line at the gates. "It's ginormous!" I heard one person tell her cellphone twice. Another woman surveyed the lineup and exclaimed with palpable shock and disbelief "This is the line to get in? You already have tickets?!?"
Van Morrison hit the stage a few minutes before I got into the festival grounds. The line sped up as volunteers went up and down the line handing out wristbands and a second gate was opened.
I did manage to move forward through the crowd but unlike previous Bluesfests there was no way to discern a path through the sea of humanity, let alone push through. You can see how close I got from the photo below. Van is just above the right ear of the man in the grey shirt in the foreground.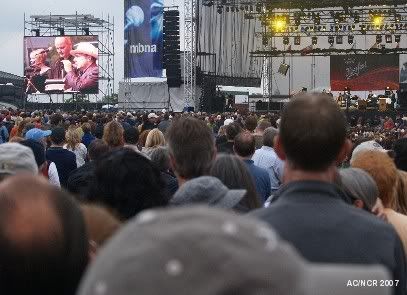 It wasn't jam-packed; there was elbow room. More to the point, Van Morrison put on a quality performance, as befits his reputation. He has a fine band with a pair of guitarists, a trio of backing singers (one of who doubles on guitar and trumpet as required), a violinist, a drummer dobro/steel player (a rather smashing looking lady in a sequined top), a bassist and an organist who was having the most fun on stage that evening - he ended the show with some Jerry Lee Lewis style moves.
You got the hits:
Domino
,
Have I Told You Lately That
,
Baby Please Don't Go
- Morrison broke out the harmonica for that one - and a one-two finisher of
Brown Eyed Girl
and a less-than-ferocious
Gloria
. Then he was off, no encore. I assume that's usual with him. The crowd seemed to enjoy it, though they were a bit less vocal than I've seen at other main-stage headline shows.
The next scheduled performer was Elmer Ferrer. The plan at the new/old Bluesfest site is to have performers at the Rogers and MBNA stages trade off. You watch one, then turn around and watch the other (maybe I should trade the folding chair in for a drummer's stool?).
As I was leaving I could hear and see the tiny speck that was Elmer Ferrer kicking his set off with
Immigrant Song
. He sounded good, but I had enough of playing sardine for one evening.
I'm going to assume that the Dylan show tomorrow will be even more of a zoo. I hope things won't be quite as jammed at the River Stage, where I hope to catch Radio Birdman.