Day 2 of the Capital Idea Festival and it was off to Babylon to see three bands I had never seen together. True, I've seen Spencer Krug - mainman of headliner Sunset Rubdown - perform in both Frog Eyes and Wolf Parade. All I knew of the other two acts was that the opener, Miracle Fortress, was the work of Graham Van Pelt, who is also in Think About Life. Not much help there; although TAL has played in town a few times (they seem to be regulars at the 59 Argyle St. basement) I hadn't seen them either. However, as it emerged after the show I'd seen at least half of Miracle Fortress' live band. I saw guitarist and bassist Jessie Stein
play Mavericks in March 2005
with her band SS Cardiacs. I was sure I'd seen Van Pelt's other guitarist and keyboardist before as well, but only placed him after he asked if I'd taken pictures of
Telefauna's gig at the Rainbow
April 9, 2006; it was Adam Waito. Anyway, onto Miracle Fortress, who I wouldn't rush to compare with any of the aforementioned bands (man, that was a lot of leadup for nothing, wasn't it?). I'd say MF incorporates both the Beach Boys' dreamiest moments with some of My Bloody Valentine's noisiest and crossbreeds Cornelius with Saturday looks Good To Me.
Popsmith in chief Van Pelt.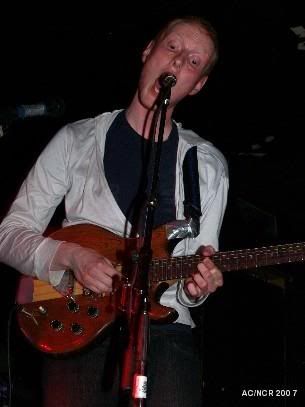 Drummer Jordan Robson-Cramer also features in Sunset Rubdown. Good thing too, since it means I'll have another picture of him less dull than this one.
Jessie rocks out!
Adam takes his turn on the Ibanez.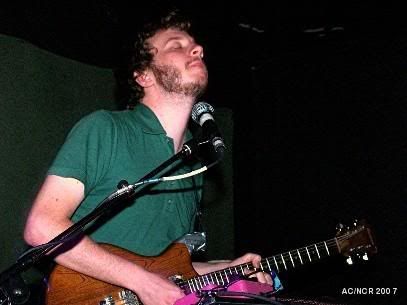 Fortified action!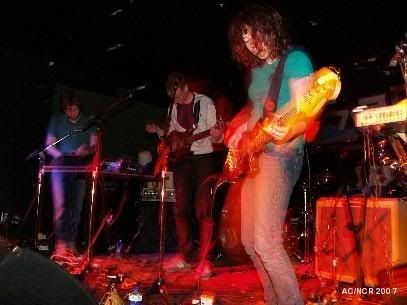 They'll be back in town (or close to it) on July 12 when they play the Black Sheep Inn on their return from from a western tour.