Once upon a time I went to Zaphod II to see The Dead City Rebels and Tricky Woo. The Rebels are no more, the Woo broke up a while later. In the years between then and now I saw Rebel alumni in bands like The Golden Famile, Fortunate Sons, Four Frames/Mouthpiece, Death March Volunteers, Long Timers, The Glads and probably others I can't remember at 2 in the morning. But of Rebel lead howler Neil Petersen I saw little. Until now. He's thinner and has longer hair. And his new band (which coincidentally features a couple of former Frames) rock like late Scientists and a bunch of other good stuff. Woo mainstay Andrew Dickson went all Floydian in Soft Canyon for a while, then reformed Tricky Woo, and played a few killer shows in town. He's also got a new outfit, a female-fronted quintet called The Mongrels. He, too has more hair than when I saw him last.
Neil and Garrett Hay rock it.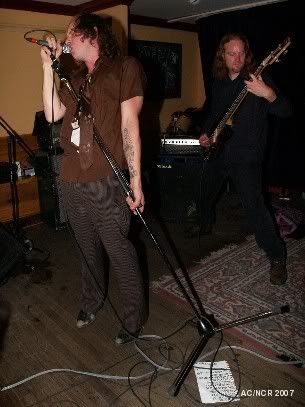 Dickson, Joplinesque frontwoman Amy T. and a bit of drummer Tim Dwyer - one of two!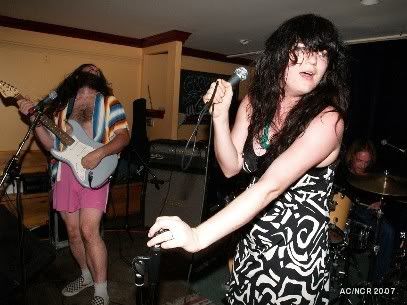 That was a killer show ... and Zaphod's II? Last I saw, an architect's office.
Show reminder: It's Canada Day, and that means loads of free shows. Feist and The Cowboy Junkies are the two acts that stood out among the official stuff; Camp Best Friends, Good2Go, Ladymilk, The Poulsens and Rockets Fall (but not Soviet States) perform at Zaphod's.