There were a few good options for an evening's entertainment last night, but when it came time to head out the door I went downtown to Club SAW to see a show put on by i(heart)music featuring a couple of bands I hadn't seen before: The Rural Alberta Advantage and
Capital Grass and The No Men
. Ottawa's own Sarah Hallman provided the icing on the cake.
Readers with sharp memories may recall me wondering in print whatever happened to the 50% of the Four Frames not in Boom Creek, the Coulis brothers. They're now two-thirds of Capital Grass and The No Men, at least for this engagement. Matt Gower is the chap on banjo and vocals.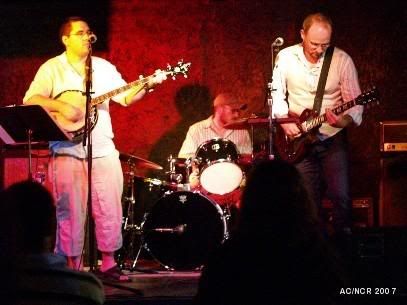 After viewing my pictures of CG&NM I decided to tinker with my camera's white balance, sucking out most of the yellow. I think you'll agree this photo of Sarah and Brian Simms is something of an improvement ...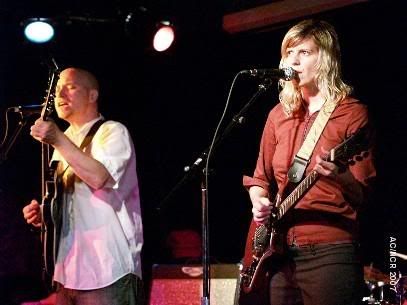 Finally, here is two-thirds of the Rural Alberta Advantage; drummer Paul Banwatt is off to the left, but can also be seen behind the kit in my pictures from an early Club SAW show as 50% of
Woodhands
(who are returning to the area at the Black Sheep Inn Aug. 24, by the way).
This was an excellent show from all three bands. I thought Hallman's performance was particularly fine.