It's been a good couple of months for shows here in the nation's capital, with a bevy of excellent local acts keeping me on the run. But now bands from further afield seem to be emerging from hibernation. With that in mind, I'd like to take this excuse to post more pictures of Kiss Me Deadly's Emily Elizabeth in a red body suit ... er, I mean preview acts around town in the weeks ahead.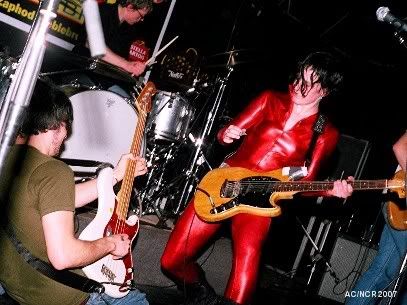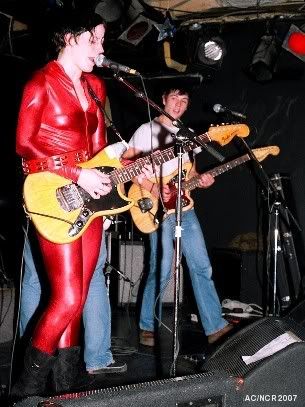 Ahem! Now on to those shows.
Friday Besnard Lakes play Zaphod's with Amos the Transparent.
The folks at 59 Argyle have a couple of noteworthy shows tomorrow and Saturday, with Tradition, Xian and Saint Bernard of Love on tomorrow and a veritable ex-expatriates get-together the next day with Goldsword Champions, Weapons of Mass Seduction and Captain Foxy.
Also on Saturday, The Cliks, Les Allumettes and The Banditas perform a benefit for Venus Envy at the Montgomery Legion Hall (on Kent St. at MacLaren).
Tuesday, Camera Obscura brings the twee at Barrymore's with Essex Green and Glenn Nuotio.

Good2Go and Quick Fixxx perform at End Hits on Feb. 2.
Feb. 5 Grizzly Bear performs at Barrymore's with The Dirty Projectors and As The Poets Affirm.

The same night sees Sarah Hallman and sexy partiers The Soiree at The Black Sheep Inn.
Feb. 3, veterans of Three Inches of Blood hit the Zaphod's stage as Pride Tiger along with The Double Pumpers and The Mighty Eagle Band.
Gatineau roots-folk outfit Hoodlum play The Avant-Garde Bar.

The ever-popular Golden Dogs play Mavericks Feb. 10 with Yoko's Casinos and Lure.

Seems like a while since Quebexico played ... they're back at 59 Argyle on Feb. 11 Think About Life and Fucked Corpse.
Montreal's The Winks are kind of cute. They're at Zaphod's with Eastborough and Famous Lovers the same day.

The City Above, Once Past Silver and Auto Racing play Zaphod's Feb. 15
The next day, same venue: Kiss Me Deadly, Crystal Clyffs and My Dad Vs. Yours.
Feb. 17 The John Henrys and Lil' Andy and Karaoke Cowboy play a return engagement at Irene's.
Same day, North of Summer kick off the first of several dates at the Avant-Garde Bar with The Jason Kent Band (J.K. is a veteran of The Sonny Best Band and Soft Canyon).
Still on Feb. 17, The Hi Lo Trons perform with Montreal veterans The American Devices and Mackenzie MacBride.

Valery Gore plays at Zaphod's, as does the afore-listed Sarah Hallman.

Feb. 24 White Cowbell Oklahoma make their return to Barrymore's to rock all comers.
Same day, Zaphod's, local psychers Design of Cities play with Toronto's Postage Stamps.
It's a night of death by disco as Shout Out Out Out Out and 120 Days both return to share a stage at Zaphod's March 1.

Muffler Crunch destroys Cafe DeKcuf March 3.
The Bloody Hollies also play Babylon March 3.
Against Me! perform at the Capital Music Hall March 7 - more importantly, they're bringing The Riverboat Gamblers with them.

Last and definitely not least, Acid Mother's Temple finally plays Ottawa at Babylon April 30. Huzzay!
Even better, I'm off work some of those days.