I've had a busy week - today was the first time since the New Year that I could get out to see a show (granted, there wasn't a whole lot of opportunity up to now) so I went off to Zaphod's to see Brock Zeman. I was a bit late, so I missed the first two or thee songs of
Joshua Morin
's set. Pity, he sounded good. He's got a fine voice and a skilled accompanist in Fred Gravel.
Josh at right, Fred at left.
He was followed by a two-step-inducing set from Ball and Chain.
Brock Zeman wrapped things up nicely with some rough-hewn country rock.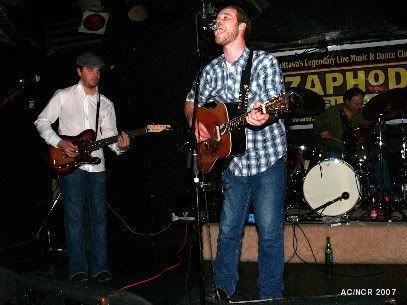 I detect the influence of Steve Earle, and possibly a wee bit of Tom Waits.