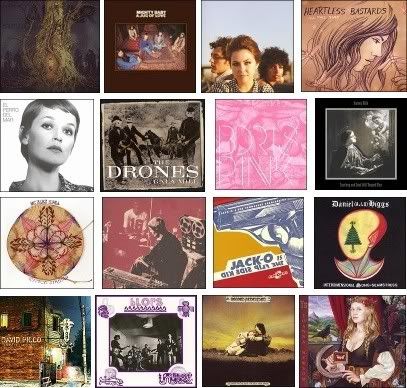 Ah, another year gone, and another highly arbitrary list of favourites. Well at least I waited for the year to end before compiling this list (a more truncated version is at the Birdman Sound website, and an even shorter version can be found at Pennyblackmusic.com).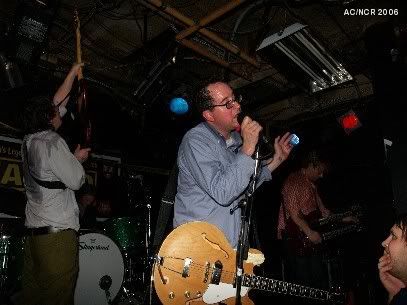 The Hold Steady, Zaphod Beeblebrox, Oct. 29
A lot of old favourites cropped up on my personal "best of." Topping the list is The Heartless Bastards'
All This Time
. I loved their first album, and like their new one even more. The same goes for The Drones'
Gala Mill
. Australia's finest now have three full lengths and an excellent odds'n'sods collection under their belt, and don't show any signs of slowing down. Drive-By Truckers did a fine job with
A Blessing and a Curse
. The Hold Steady's new album,
Boys and Girls in America
was excellent. I love both Sunno))) and Boris, and to my surprise their collaboration,
Altar
, did not disappoint (though I confess I think the best track is the one with Jesse Sykes on it). This was something of the "Year of Boris" for me, since I also got copies of
Feedbacker
and
Mabuta No
Ura
. Jack-O and The Tennessee Tearjerkers'
Jack-O is the Flip Side Kid
was another killer entry from the former Oblivian. And of course Makoto Kawabata and Co. produced a slew of enjoyable albums, either as Acid Mothers Temple and The Cosmic Inferno or the revived Melting Paraiso UFO. Camera Obscura's
Let's Get Out of This Country
and Belle and Sebastien's
The Life Pursuit
were more than respectable additions to both bands' canons. The King Khan and BBQ Show packed a greasy punch live and on their sophomore album,
What's For Dinner
. Speaking of exciting live shows, while current recording technology doesn't allow for the band wrestling of Henri Faberge and The Adorables, their debut was swell too. The edgy pop-rock of Malajube's
Trompe L'Oeil
prove their stellar debut EP was no fluke. Neko Case continued her stunning run with
Fox Confessor Brings The Flood
. Andre Ethier scored a triple whammy: First, the release of
Porcella
's douple-LP version
A Bird In The Hand is Worthless
provided a stunning sendoff for The Deadly Snakes; then he released his excellent collaboration with The Silver Hearts,
Dear Stranger
; finally, he rounded off the year with his second solo album,
Secondathallam
. I was lukewarm on the Gabbard brothers' previous band, Thee Shams, but their new outfit
The Buffalo Killers
put out a terrific self-titled 1970s-influenced debut. Danielsen's
Ships
was another striking, and surprisingly heavy, work from the cracked pop auteur. Comets on Fire's
Avatar
was a quality work from a band that seems to be in mid-transformation. As for local folks, I have to confess being shamefully remiss when it comes to grabbing local releases this year; of the handful I did acquire, Harshey's and The Weapons of Mass Seduction's appealed the most.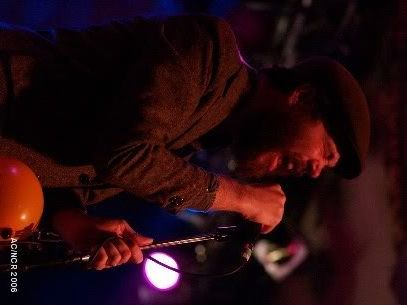 Andre Ethier with The Silver Hearts, Barrymore's, April 21
As for performers I hadn't heard from before, David Picco's
Saturday Night, Sunday Morning
hits the country-rock-noir spot; and The Ettes'
Shake The Dust
pleased the ears as well with its fuzzy girl group sonics. Man Man's eclectic
Six Demon Bag
was also very entertaining, though it was but a pale reflection of their live show. Oakley Hall isn't entirely unfamiliar, being the product of an Oneida veteran, but the fried country rock/noise hybrid of
Gypsum Strings
is of a different order than that band's fractious psych. The Neil Young-influenced rock of Ladyhawk's self-titled debut struck hard. Beirut's
Gulag Orkestar
was a remarkable effort from a young performer who seems equally influenced by Stephen Merritt and gypsy brass bands. El Perro Del Mar's mournful pop was touching, too. Daniel Higgs'
International Song Seamstress
was about as freak-folky as it gets. Indeed most of my favourite new discoveries this year were more in a folky vein (acid or otherwise): Espers'
II
, Joanna Newsom's wonderful
Ys
and Wooden Wand's
Second Attention
.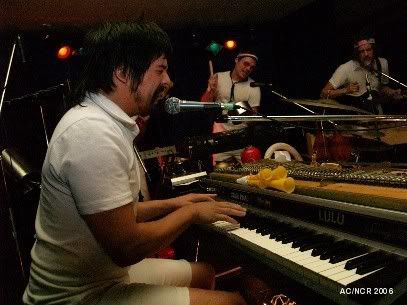 Man Man, Mavericks, June 4
As for reissues, you'd be hard-pressed to find a better grab bag of hot sides than Vampi's
Sencasional Soul
. Mighty Baby's
A Jug of Love
sounds improbably like the product of a West Coast country rock outfit, rather than a bunch of former British white soul combo vets. The Midniters' new Norton comp,
In Thee Midnite Hour
, rocks hard. Further afield, Shadoks 2-CD comp of Edip Akbayram's early work let fans of the Turkish rock scene of the 60s and 70s dip a little more deeply. Personally, I'm waiting for a good Erkin Koray compilation. More recently, Chavez's
Better Days Will Haunt You
appealed, as did Harvey Milk's
Courtesy and Good Will Toward Men
. As a drooling Julian Cope fan, I was also glad to snag the deluxe edition reissue of
Jehovahkill
in the waning days of 2006. Easy Action's Sonic's Rendezvous Band six-CD box is also killer. I also love Shadok's Blops box. Three CDs of pre-Pinochet Chilean folk rock? Why not? In a heavier vein, I also picked up copies of Trouble's
Psalm 9
and
Skull
albums, complete with bonus DVDs. The Loren Mazzacane Connors three-CD set on Family Vineyard,
Night Through
, is another excellent showcase for an artist I only knew by reputation. Not exactly a re-release, Sandy Bull's
Still Valentine's Day 1969
is another fine work from a genius with strings. Ditto for Neil Young's
Live at The Fillmore
. Aim's re-release of Geater Davis's early work,
The Lost Soul Man
, is a must-have for southern soul fans. Relapse dug up a lost Canadian treasure with their release of Warpig's sole album.