I've seen a lot of Acres of late, perhaps because their rhythm post-rock is a versatile sound: You can stick them on a bill with a wide range of acts (starting at, say, the roots rock of My Morning Jacket and ending at the atmospheric instro of Magnog) and they'd both sound good and fit in.
I promised myself I'd take a picture of Brian Ahopelto where he wasn't sticking his tongue out.
A slightly translucent Matthew Corbiere.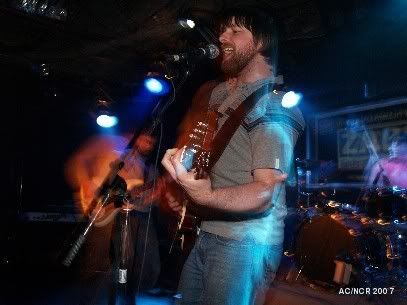 Michael Zorn is amused.
I have no darn idea what's going on here, except that it involves running around, and four different shutter and flash settings.
The band also has an album release scheduled for May 19,
Autumn in December
. They also have an opening slot for The Walkmen show at the Bronson Centre June 22.