Off to another night at Barrymore's. I figured I'd get there in time for the opening act, Murder By Death, if I walked in the front doors at 9:30 p.m. or so ... not the case, I only caught the last couple of songs. If Sadie Hell had an extra member or two, they might sound like MBD (or the other way around).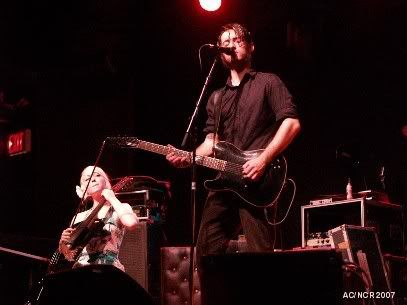 I'm guessing they were on and off early to make way for a good long set by The Reverend Horton Heat - and a super set it was. Unfortunately they didn't allow any photography without prior permission, so you're going to have to get by on my scribblings if you weren't there yourself. Pity, there were certainly a few things worth viewing and capturing for posterity's sake: The Rev's orange Nudie suit and similarly orange Gretsch guitar (his signature model, no doubt); bassist Jimbo Wallace balancing on his bass and tossing it in the air at the finale; The Rev himself riding the bass as Jimbo played.
A lively set, though the Reverend doesn't race about stage - he ambles, and with his somewhat pinched expression and plastered-down hair looks a bit like a dyspeptic older uncle. Well, his fingers are still mighty nimble, his voice is good ... that's what matters.
Musically it was a super-tight set, with many popular favourites (or at least those Heat could remember - he's written a bunch that he admitted he's forgotten. He did play
Bales of Cocaine
and
Marijuana
, and fulfilled a written request for
Big Little Baby
. The biggest crowd reaction came during
The Jimbo Song;
Loco Gringos Like A Party
,
400 Bucks, Sue Jack Daniels
and
Psychobilly Freakout
also made the setlist. The band zipped through a passel of covers, including Bill Haley and The Comets (
Rock The Joint
, I think - it was just an hour ago and already my memory's getting foggy too), Booker T and The MG's
Time Is Tight
, Johnny Cash's
Folsom Prison Blues
and an out-of-left field version of Black Sabbath's
Paranoid
sung by drummer Paul Simmons (who also turned in a thunderous drum solo, complete with stick toss-and-catch). A must-see at least once.