'Twas a dark and drizzly night when I set off for the Navy Club on Victoria Island. It's been decades since I set foot on the isle, and I had a bit of bother finding my way to the Kelp Records' 13th anniversary party show being held there, but I made it early enough not to miss any of the action. Kelp kingpin Jon Bartlett promised an evening of diverse entertainment, and he started things off on a good foot with East Coast Music Award-winning rap MC Brockway Biggs (formerly known as PIMP-T and Pimp Tea).
Biggs does some thinking.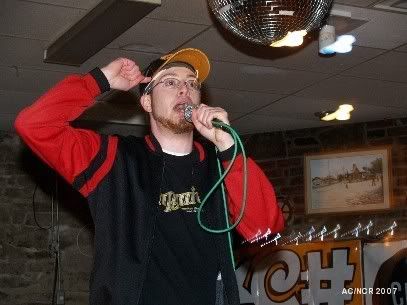 I love disco balls ... is that so wrong?!?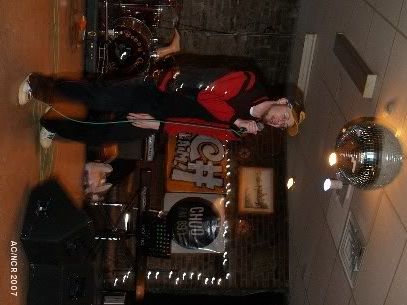 BB sheds the jacket and shows off some moves. "I'm turning 27 in a couple of weeks, I don't know how much longer I'll be able to move like that" he said after a spirited rendition of
Shake Ya Caboose
.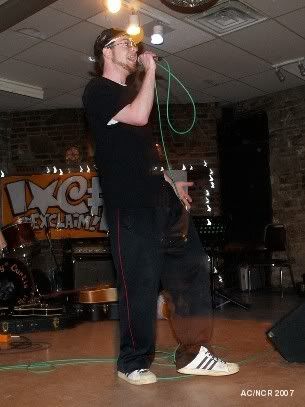 Superdude gets the thumbs up!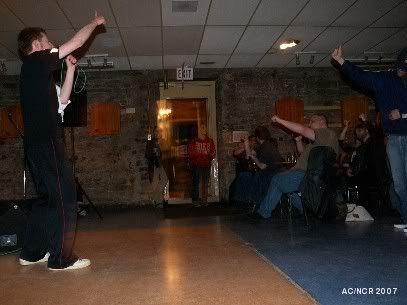 He was also giving out free stuff (such as Pimp Juice). You'll be seeing more of that stuffed turtle ....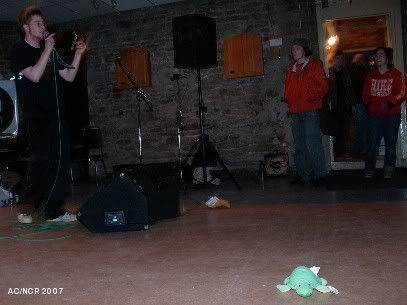 BB has departed from New Brunswick and taken up residence in Ottawa, so no doubt we'll hear more from him from momentarily (to say nothing of his third album, which he's finishing off soon).