I was looking forward to seeing a lot of great music in June, but alas my work schedule has taken a sudden turn for the busy so I'm going to miss a big chunk of it. Well, no reason to stop anyone else plotting out their showgoing next month, starting with the
Capital Idea Festival
.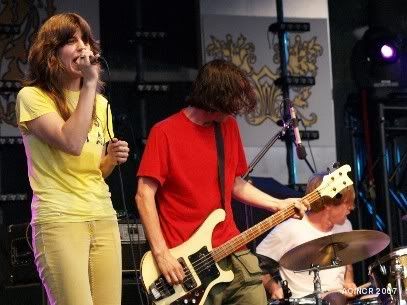 Fiery Furnaces, Ottawa Bluesfest, July 14, 2006
Sure, I'm going to get to see The Besnard Lakes and Jade McNelis June 20; Sunset Rubdown, Montag and Miracle Fortress June 21; Xiu Xiu, Chris Garneau and the mighty Fucked Corpse June 25; not to mention The Fiery Furnaces, Chinese Stars and the always wonderful Hot Springs June 26.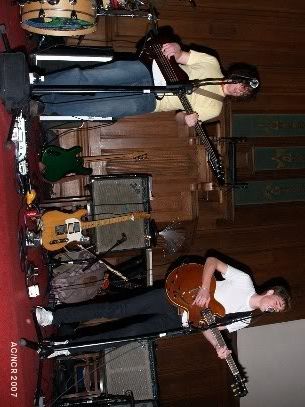 Born Ruffians, First Baptist Church, October 6, 2006
Alas, I shall miss a heap of other good stuff, most importantly The Walkmen (appearing with super duper locals Relief Maps and Acres) on June 22 and The Wrens with Poorfolk and Darling Arms June 22, but also Frog Eyes at Zaphod's June 24 and Born Ruffians with The Field Register and Henri Faberge and The Adorables June 29. You may also fancy the opportunity to see The Russian Futurists and Parts and Labour June 28; there's also Destroyer and Rock Central Plaza at Barrymore's June 27 and Girl Talk with Crystal Castles June 29; finally, if you didn't see Damo Suzuki on his previous jaunts to town you should seize the opportunity June 30.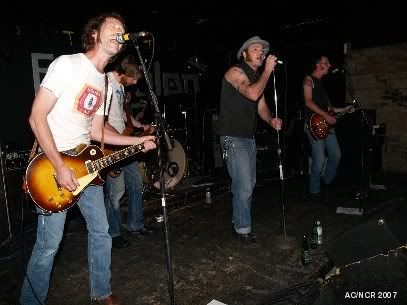 Fifty Men, Babylon, August 1, 2006
Off course, Capital Idea isn't the only festival in town; Westboro has
a hoedown of their own
, and while I'm going to miss a chunk of it too, that's no reason for anyone to pass up performances by Big Stone Drummers and Alden Pompana, The Old Youth,Graveyard Dogs, Hunter Valentine, Andy Swan, NUKARIIK, Golden Dogs (once again, I miss a Golden Dogs show ... grrr!), Angela Desveaux, Jason Collett, Lily Frost, Lindsay Ferguson and Kathleen Edwards on the Saturday. Me, I'll be catching at least part of the Sunday lineup: Ana Muira, Marie-Josee Houle, Jupiter Ray Project, Slo' Tom, The John Henry's, Mckenzie McBride, Eric Vieweg, Crowded Skies, Camp Radio, Juliana Pulford and Fifty Men. (ADDENDUM: Since I've just learned that Zoobombs will be at Babylon June 10, you can probably guess how I'll spend the rest of the evening).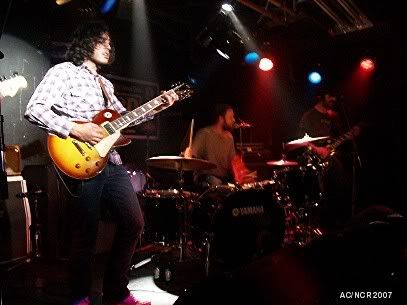 Pride Tiger, Zaphod Beeblebrox, Feb. 3, 2007
Tell the truth, though, if I were free that Saturday (July 9) I'd probably either be in the basement of End Hits watching
Mouthus
,
Cousins of Reggae
, B'Italian and
Smoke Judo
at End Hits or over at Zaphod's catching
Pride Tiger
,
Die Mannequin
and
The Mighty Eagle Band
. What else am I missing - oh, too much to mention, so I'll just pass the word on another two shows you should show up for:
Sunburned Hand Of The Man
, The Michael Flower Band, MV & EE and The Bummer Road will be freaking out at Zaphod Beeblebrox June 3; and Mocking Music brings
The Clientele
,
Beach House
and
My Dad Vs Yours
to Babylon June 5. If the Walkmen aren't your thing, you might want to check out
i(heart)music
's Nymphets gig at Zaphod's or The Shovels CD release show at Irene's with Crowded Skies and Golden Famile man Darrell Angus's new project Rickity Ship. Second to last, but certainly not least, Canadian living legends Simply Saucer perform at Babylon with Four'n'Giv'r June 15. Yes, I'll be missing that one too. One last plug: If you like the rock but aren't up for Damo June 30, you might want to spy out Montreal space-stoners
The Mongrels
(featuring Tricky Woo man Andrew Dickson) and
Boom Creek
at Irene's.