Adam Puddington is another hardcore punk lad who has set aside the skateboard of boyhood for a more rootsy musical style. He's got a stately deadpan voice and some serious songwriting chops. On this occasion he was backed by the redoubtable
Brothers Chaffey
(
last seen opening for
Trevor Alguire) and drummer Nick.
The man himself! (And brother Curtis at back.)
Drummer Nick and brother Matthew, filling in on bass guitar.
Matthew also sang a few Brothers Chaffey songs; great voice he has.
More Curtis!
More Nick!
More, etc.!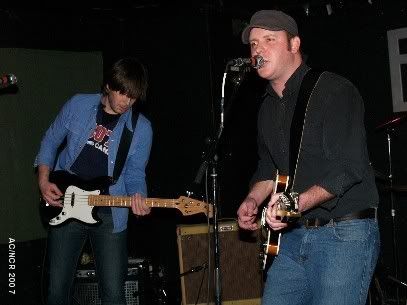 The whole lot!
And some last-minute faceoff action.
A fine taster for the remainder of the evening.