No new pictures, so once again it's time for a trip through the vaults. A couple of years ago
The Icarus Line
played a headlining gig at Babylon. The turnout? You could almost see tumbleweeds blowing across the dance floor, which is strange when you consider that the band had quite a reputation at the time. I grant you, as a group closely associated with the ever-snarky Buddyhead, it was a reputation for being complete (fill-in-the blank)s, but still! They had been through town just a few months prior in an opening slot for The Distillers, but apparently didn't make enough of an impression to attract any spillover. They grabbed the middle slot and let tourmates Dead Meadow wrap things up. Good. The Line wasn't too bad, but I liked DM way more. I liked the opener, 400 Blows more as well, which may be why I posted
pictures of them and Dead Meadow
but never did get around to the Line. (Note that I actually prepped these shots two years ago, so no large versions.)
Let's start things off with a shot of singer Joe Cardamone, guitarist Alvin DeGuzman and a bit of bassist Don Devore. Yes, that amplifier has been spray painted with "Punk is dead". Don't say that! You'll hurt The Exploited's feelings ...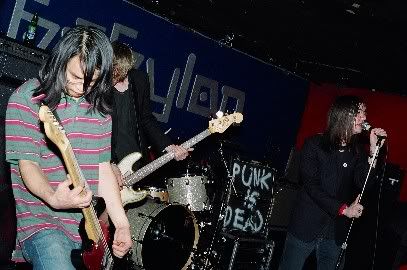 Bassist Don Devore towers over DeGuzman through the miracle of perspective and also being tall.
Drummer Jeff Watson hammers away. I think he was the best part of the band, actually.
Guitarist Aaron North likes the pawn shoppers.
You want feedback, you have to put your back into it. Thus the name.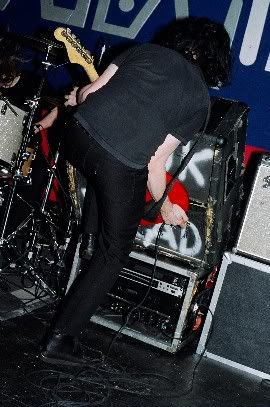 All together now ... like I said - lots of space down front.
Not bad, but I like their album
Penance Soiree
better. The Line is still going - if you believe their Myspace, they've got a show in California with the revivified Jesus and Mary Chain this month.