Kelp's 13th anniversary celebrations moved into high gear with a gig at the Navy Club. Not the easiest venue to find, but a hefty number of folks showed up to enjoy several excellent sets from the record label's family and friends.
First up, New Brunswick's notorious Brockway Biggs rapped over some choice Maritime beats under his Pimp Tea brand.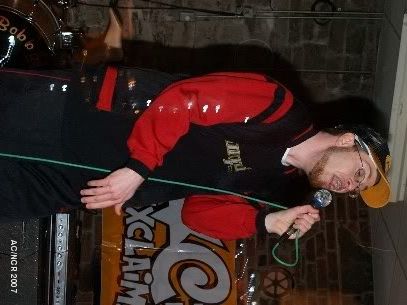 Waterloo's Agile Like This regaled the audience with songs about Satan, oral sex and
America's Next Top Model
.
The Michael Parks (formerly The Detective Kalita) had a special guest for almost every tune. Here's Chris Page on mandolin with Andy Swan.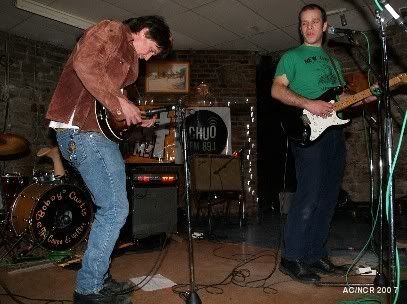 The Flaps kicked out their usual superb instrumental rock.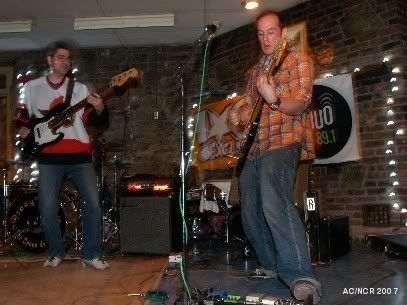 The Acorn capped things with a scorching show (and numerous percussionists).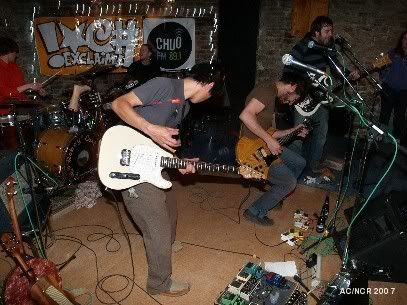 The festivities continue today with an instore performance by Chris Page at Sounds Unlikely,
Andrew Vincent & the Pirates
,
Andy Swan
,
Greenfield Main
,
Jenny Omnichord
and
The Luck
at the Carleton Tavern starting at 1 p.m. and
Camp Radio
,
Rhume
,
Flecton
and the
Two Minute Miracles
at the Glue Pot Pub around 9 p.m. (and finishing around 2 a.m., if last night was anything to go by).