There was a tone of stuff going on last night; I elected to spend most of it in the vicinity of Rideau St. First I went to Dalhousie St. to see Elephantoms and xbxrx rip it up in the basement of End Hits. Much screaming and running about.
Someone once told me that the stage performance by the Elephantoms' singer was one of the most alarming they had witnessed. It did look painful on occasion.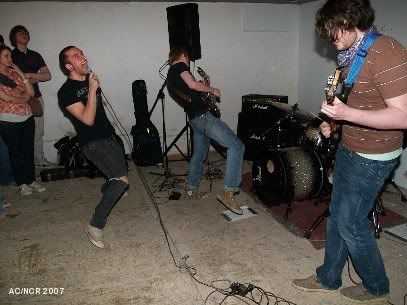 xbxrx make up in running about and yelling what they miss in vowels. Plus they know how to accessorize with purple duct tape.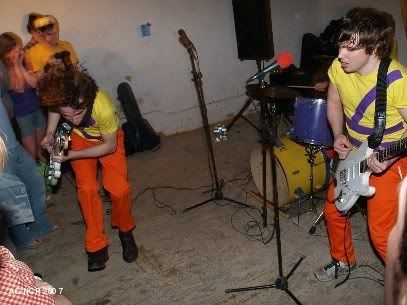 After the brief show (only about an hour in its entirety), I headed to Cafe DeKcuf to see some of the various limbs of the Harshey family tree shake about. The theme of this gig was that each band featured someone in the punk rock trio.
First off was bassist Larry's other band: Elbeejay is a very sharp pop-rock outfit.
Harshey singer-guitarist Jeff Martin was up next with Garaga. An excellent set of heavy rock, somewhat disrupted by a malfunctioning amp.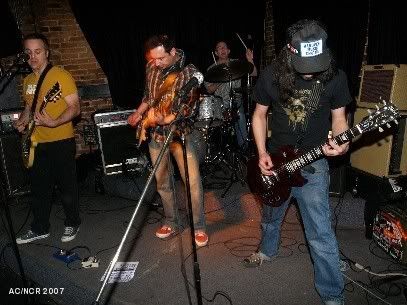 The Allrights (featuring Harshey drummer Jon) finished things off with some robust barroom rock with the occasional rootsy flourish.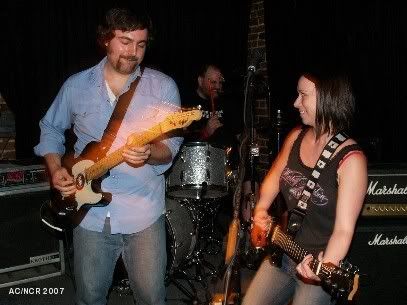 There are a few missing band members to show, so stay tuned.